Classic
PeterH on July 26th, 2011
Singer Sheryl Crow will put her personal 1959 Mercedes 190SL Roadster up for auction Aug. 21 in Pebble Beach to raise money for rebuilding efforts in Joplin, Mo.
Photo courtesy of Scott Nidermaier, Gooding & Company.
Source: Jalopnik
Continue reading about Sheryl Crow auctioning her '59 Mercedes
PeterH on November 10th, 2010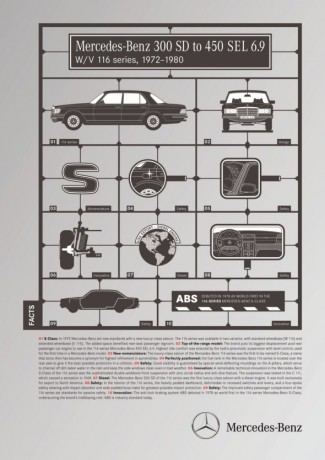 The brand's first luxury class model series to bear the S-Class name
Numerous technical innovations have helped to make it the forerunner
The Mercedes-Benz 450 SEL 6.9 became the top-of-the-range model in 1975

(more…)
Continue reading about Modern Classics: the Mercedes-Benz S-Class of the 116 series (1972 to 1980)
PeterH on July 29th, 2010
Still attractive and desirable
Innovation studies of their day
High value retention as modern classics

(more…)
Continue reading about Modern classics: the Coupés of the Mercedes-Benz 126 series (1981 to 1991)
PeterH on June 25th, 2010
Classics during their own production period
Proven technology from the Saloons and Estates of the series
Mercedes-Benz E 36 AMG is the top-of-the-range model

(more…)
Continue reading about Modern classics: the Cabriolets of the Mercedes-Benz 124 series (1991 to 1997)
PeterH on June 21st, 2010
Beginnings as a cuckoo's egg at the Mannheim plant
The backbone of truck production during difficult times
A precursor to the successful L3250 model

(more…)
Continue reading about The L701 – five years building Opel Blitz reproductions in Mannheim
PeterH on March 25th, 2010
AMELIA ISLAND, FL – Mercedes-Benz, founding sponsor of The Amelia Island Concours d'Elegance, celebrates 15 years of supporting one of the nation's most innovative vintage car shows featuring over 250 rare classics from seldom-seen private collections nationwide.  The Concours takes place on the grounds of the Ritz-Carlton, Amelia Island from March 12-14, 2010.
Continue reading about AMELIA ISLAND CONCOURS D'ELEGANCE CELEBRATES MERCEDES-BENZ MARQUE