Classic
PeterH on March 2nd, 2016
PeterH on November 5th, 2015

'All Time Stars': modern classics and vintage greats from Mercedes-Benz
The Mercedes-Benz Museum is now selling classic cars from all periods under the name All Time Stars. The complete range can be seen on the website alltime-stars.com.      (more…)
Continue reading about Mercedes-Benz Museum selling classic cars directly
PeterH on October 26th, 2015

Again available: rear-axle ratios for the 300 SL
The bevel gears and crown wheels of all rear-axle ratios for the 300 SL (W 198) are again available as genuine spare parts.
Thanks to a costly reproduction process, Mercedes-Benz Classic is now able once again to offer some gear ratios that have not been available for several decades.      (more…)
Continue reading about Genuine spare parts: bevel gears and crown wheels for W 198 rear axles
PeterH on October 21st, 2015
Mercedes-Benz Classic in Fellbach is the port of call for friends and owners of classic cars of the Daimler, Benz, Mercedes and Mercedes-Benz from all over the world.
PeterH on October 14th, 2015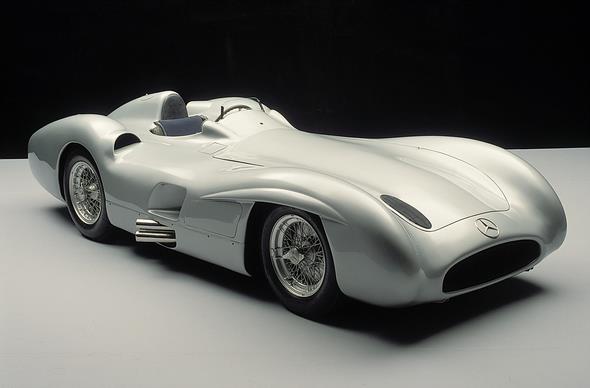 Glorious year 1955: Silver Arrows win a spate of victories
60 years ago, the Mercedes-Benz Silver Arrows were practically unbeatable throughout the entire racing season – in all the major classes of international motor sport: in 1955, the Stuttgart racing team with Juan Manuel Fangio at the wheel of the W 196 R won the Formula 1 world championship for the second time running and achieved a triumph in the sports car world championship with the 300 SLR (W 196 S), while Werner Engel became European touring car champion in the 300 SL (W 198) production sports car.
Major national titles were also won, for example victory in Class D of the US sports car championship.      (more…)
Continue reading about The most successful motor sport season for Mercedes-Benz until today
PeterH on September 29th, 2015
Nerve-jangling final race: the 1955 Targa Florio
The Targa Florio was the decisive contest in the 1955 World Sports Car Championship. Under tremendous pressure to succeed in this, the final race of the season, Mercedes-Benz finished first and second with the 300 SLR, just enough to win the World Championship.
Continue reading about The brand's most successful racing season