Classic
PeterH on October 9th, 2012
Hermann Lang and Fritz Riess won the legendary 24-Hours of Le Mans race at the wheel of a 300 SL (W 194 series) on 14/15 June 1952
Theo Helfrich and Helmut Niedermayr were second, also piloting a 300 SL (W 194)
Continue reading about Mercedes-Benz 300 SL: 60 years ago, a double victory at the "24 Hours of Le Mans"
PeterH on October 7th, 2012
A unique advertising history relays the story of unique vehicles
Advertising motifs, photos and illustrations from 1952 to the present day
Continue reading about Mercedes-Benz SL in advertising: product ranges as icons of their time
PeterH on October 5th, 2012
Mercedes-Benz Classic
Measurements on the 300 SL (W 194 series) and 300 SL (W 198 I series) as well as comparative measurements on the 300 S (W 188 series)
The results of the two SL measurements are unexpectedly close
The Mercedes-Benz 300 S has a significantly better drag coefficient than expected
Stuttgart – New cars are constant objects of study in the wind tunnel. They are subjected to tests in order to optimise them in different ways – for example, to reduce fuel consumption, but also to improve wind noise or splash water flow.
PeterH on October 4th, 2012
300 SL sports car (W 194) successful in all famous races
Outstanding rally results for Eugen Böhringer in the "Pagoda" as well
Stuttgart – From the very beginning, the Mercedes-Benz 300 SL (W 194) was designed exclusively for racing. At its presentation on 12 March 1952 it caused a considerable stir with its uncompromising, streamlined racing design. Its successes during the entire 1952 season were tremendous – it won all major sports car events in international motor sports.
Continue reading about Mercedes-Benz SL: sportiness in its genes
PeterH on October 3rd, 2012
The Mercedes-Benz SL-Class sports cars –introduction
The tradition of these extraordinary sports cars begins in 1952
The Mercedes-Benz SL-Class has its roots in racing history
Every SL generation is an innovation platform for the Mercedes-Benz brand
Continue reading about The Mercedes-Benz SL-Class sports cars – introduction
PeterH on October 1st, 2012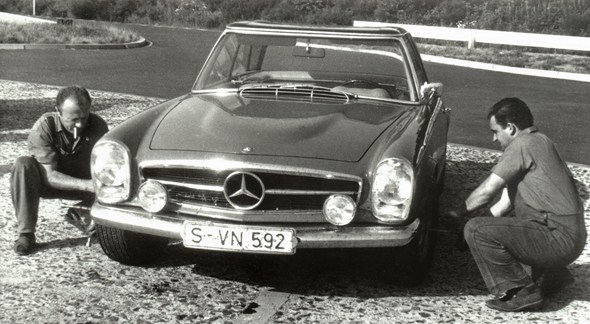 Test vehicle created in the mid-1960s
One-off with extraordinary performance
Stuttgart – There was not an overabundance of powerful engines in the Mercedes-Benz model range in the mid-1960s. In the six-cylinder engine category there was the 2.5-litre engine M 129 with 150 hp (110 kW), developed from the former 2.2-litre M 180 engine of the 220 model, and the 3-litre M 189 with aluminium crankcase in the 300 SE, with 170 hp (125 kW), derived from the 3-litre M 186 of the 300 model.
Continue reading about Mercedes-Benz SL, model range W 113, with eight-cylinder engine