Miscellaneous
PeterH on September 12th, 2015
PeterH on January 31st, 2015
Mercedes-Benz GLE Coupé launches in Universal Pictures' Jurassic World
Stuttgart.  On-screen, multiple Mercedes-Benz vehicles are once again in on the Jurassic action. Twenty-two years since the events of the original film, Steven Spielberg returns to executive produce the long-awaited next installment of his groundbreaking Jurassic Park series, Jurassic World.  (more…)
Continue reading about Mercedes Continues Its Decades Long Relationship with Universal
PeterH on January 3rd, 2015

Until 1994, Mercedes-Benz used an alphanumeric system for categorising their vehicles, consisting of a number sequence approximately equal to the engine's displacement in liters multiplied by 100, followed by an arrangement of alphabetical suffixes indicating body style and engine type.
"C" indicates a coupe or cabriolet body style (for example, the CL and CLK models, although the C-Class is an exception, as it is also offered as a sedan).
PeterH on December 13th, 2014
Intense driving enjoyment and modern luxury
Stuttgart – On 27 September, Mercedes-Benz will be launching more exclusive lifestyle vehicles onto the market in the form of the new C-Class estate, the new S-Class coupé and the latest generation of the CLS.
The new products impress thanks to their sporty design, high-quality interiors and innovative technology, including new, efficient engines, a curve tilting function in the S-Class coupé and high-resolution MULTIBEAM LED headlamps in the CLS-Class to open up a whole new dimension of Slighting technology.
Continue reading about Mercedes-Benz model campaign: the C-Class estate, S-Class coupé and CLS-Class
PeterH on July 18th, 2014
The new Mercedes-Benz S-Class Coupé: now in 1:43 and 1:18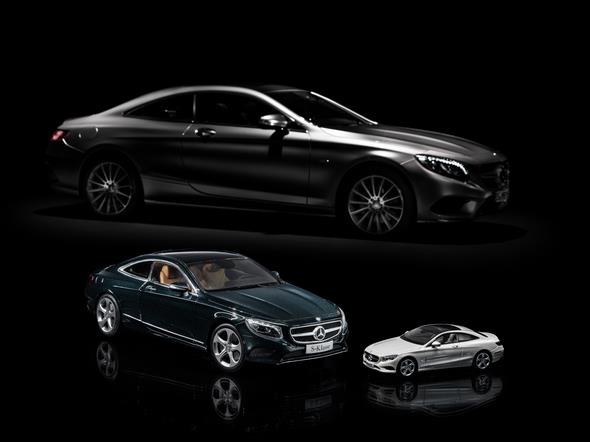 Stuttgart. Sensual serenity in its most beautiful form – the new Mercedes-Benz S-Class Coupé also stands out in small scale with a flowing silhouette and sporty classic proportions.
Continue reading about A collector's item as collector's item