NEWS
PeterH on March 6th, 2018
Two dream cars
"Exclusive Edition" is the name given to two new lavishly equipped special models of the S-Class Coupé and Cabriolet.
The special two-door models, which can be combined with almost any engine variant, make their world debut at the Geneva Motor Show
(6 – 18 March 2018). Start of sales is the beginning of April 2018. (more…)
Continue reading about New special models of the S-Class Coupé and Cabriolet
PeterH on March 5th, 2018
DIGITAL LIGHT: the light of the future hits the road
The future of car light should start soon for selected Mercedes-Maybach customers: the revolutionary headlamp technology DIGITAL LIGHT with virtually dazzle-free main beam in HD quality and a resolution of more than two million pixels should be entering small series production in the Mercedes-Maybach S-Class.
DIGITAL LIGHT is celebrating its world premiere in the updated top model from Mercedes-Maybach at the Geneva Motor Show. Selected fleet customers are expected to take delivery of the first vehicles equipped with it in the first half of 2018.
Continue reading about World premiere in the Mercedes-Maybach S-Class
PeterH on March 5th, 2018
Next milestone in electrification: plug-in hybrids with diesel technology are coming
The Geneva Motor Show will see the debut of two new Mercedes-Benz preproduction models that combine state-of-the-art diesel technology with the 9G-TRONIC 9-speed hybrid transmission. (more…)
Continue reading about EQ Power: launch of preproduction of plug-in diesel hybrid
PeterH on February 25th, 2018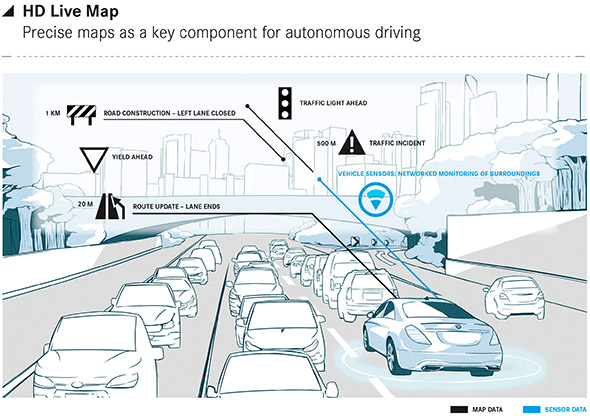 Highly precise maps will be a key element for autonomous driving
Data from car sensors enables near real-time map "self-healing"
HD Live Map complements ADAS applications for more safety
Continue reading about Daimler and HERE to bring HD Live Map to future Mercedes-Benz models
PeterH on October 27th, 2017
Sales launch of the dream cars
Stuttgart. With their unmistakable design and materials with superlative value appeal in the interior, the new SClass Coupé and Cabriolet are the embodiment of contemporary luxury.
Continue reading about The new S-Class Coupé and the new S-Class Cabriolet
PeterH on October 23rd, 2017
New special models and connectivity offers

Stuttgart. The Mercedes-Benz C-Class, GLC and GLC Coupé are benefiting from numerous enhancements like the Smartphone Integration available for Audio 20 USB and Audio 20. The offering also includes sporty special models for the C-Class Saloon, Estate, Coupé and Cabriolet.
Continue reading about Lots of enhancements for C-Class and GLC