NEWS
PeterH on June 27th, 2016
Sales start for the new C‑Class Cabriolet – Open‑air enjoyment on 365 days of the year
Stuttgart. Ready for the summer: The first convertible based on the C‑Class can now be ordered. It represents the attractive entry level into the family of Mercedes‑Benz convertibles, and is to be had from €42,215.25 (price in Germany incl. 19% VAT).      (more…)
PeterH on June 25th, 2016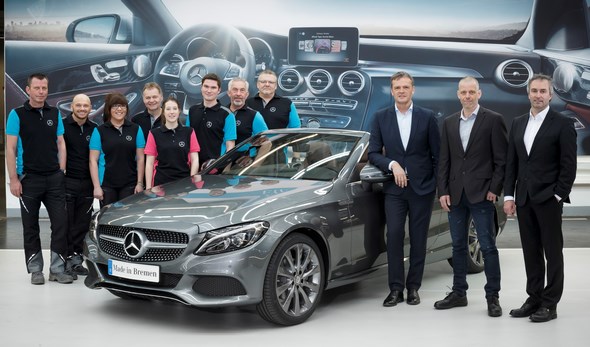 Mercedes-Benz starts production of the C-Class Cabriolet
Mercedes-Benz Cars is systematically expanding its product portfolio and is building the first C-Class Cabriolet.
C-Class Cabriolet is to be produced at the Bremen plant, rounding off the Bremen-made C-Class family, so far including Saloon, Estate and Coupé.
Markus Schäfer, Member of the Divisional Board Mercedes-Benz Cars, Production and Supply Chain Management: "The new C-Class Cabriolet is a fascinating vehicle with emotional appeal. The start of production in Bremen is symbolic of the growth strategy pursued by Mercedes-Benz Cars. Our aim is to offer the right vehicle for every customer."
Bremen plant's production portfolio grows to nine models – the addition of the GLC Coupé this summer will take the total to ten.
PeterH on June 23rd, 2016
Mercedes-Benz Brand Ambassador has started his round-the-world trip in Monaco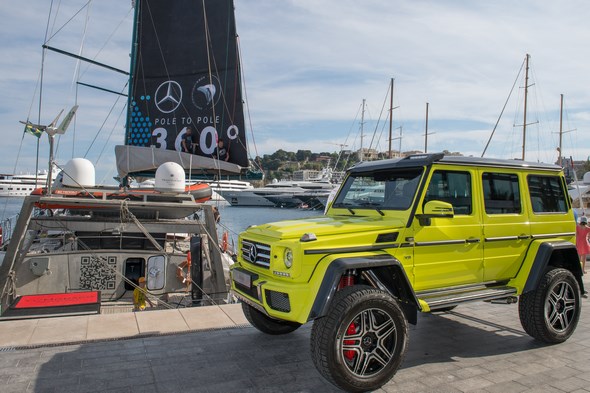 Monaco/Stuttgart.  Adventurer and extreme athlete Mike Horn started his round-the-world "Pole2Pole" expedition in Monaco on 8 May 2016.
Mercedes-Benz delivered 198,921 cars to customers in March, more than ever before in one month (+8.4%).
Unit sales in the first quarter reached a new high of 483,487 vehicles (+12.6%). New records were set in Europe and the Asia-Pacific region last month.
Mercedes-Benz was the premium market leader in Japan, Canada, Australia, Taiwan and Portugal in March. The smart brand also reached a new high for unit sales last month.
Continue reading about Mercedes-Benz achieves highest monthly unit sales in the company's history
CO2 output has improved by round one third
Numerous technical innovations make the new E-Class the most intelligent executive saloon. Over and above this the neutral testers from the South German Technical Inspection Authority confirm that it has an exemplary LCA, based on an extensive analysis.
Continue reading about Environmental Certificate for the new E-Class
First mid-size SUV from Affalterbach

The mid-size SUV model series gains a particularly dynamic addition in the form of the new Mercedes-AMG GLC 43 4MATIC.
The 270 kW (367 hp) 3.0-litre V6 biturbo engine, the automatic transmission 9G-TRONIC with shortened shift times and the AMG performance 4MATIC all-wheel drive configured with a rear bias form the basis for an especially dynamic on-road driving experience.