NEWS
PeterH on March 13th, 2016
Triple triumph: 40 years of the Mercedes-Benz 123 model series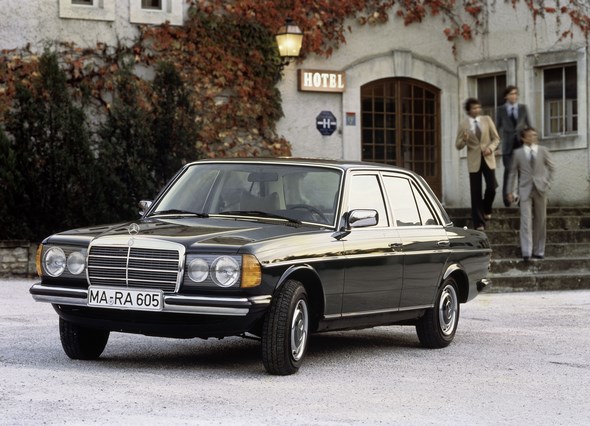 At its launch in January 1976, the Mercedes-Benz 123 model series offered a persuasive combination of elegance and multiple technical innovations.
The saloon was the first model to become available. The range was expanded a year later by the Coupé and, for the first time, an Estate model.
Over the course of the next ten years almost 2.7 million vehicles were built, among them also long-wheelbase saloons and chassis for special bodies.
The era of the 123 model series marks a particularly successful chapter in the success story of the E-Class, as the intermediate model from Mercedes-Benz was called from 1993 onwards.
The new E-Class of 2016 continues this success story.      (more…)
Continue reading about World premiere of successful E-Class predecessor in January 1976
PeterH on March 11th, 2016
SL: A tradition of elegant sportiness
The Mercedes-Benz SL has enjoyed iconic sports car status for more than six decades now.The latest generation is to be launched in April 2016.
It is all set to transport the unique tradition of elegant sportiness into the future.      (more…)
Continue reading about April 2016: Market launch for the latest generation
PeterH on March 10th, 2016

The legend – now even more dynamic
Stuttgart.  New appearance for an automotive icon: the technically and visually optimised Mercedes-Benz SL will be on the road from April 2016.
More powerful engines, the 9G-TRONIC automatic transmission, DYNAMIC SELECT with five transmission modes and Active Body Control with the curve tilting function all take the legend to a new dynamic level.      (more…)
PeterH on March 9th, 2016
"Innovation der Vernunft" (Sensible Innovation) Award for CO2 air conditioning system by
Mercedes-Benz
The German consumer journal "Guter Rat" and the magazine "SUPERillu" have chosen the CO2 air conditioning system by Mercedes-Benz as the "2016 Sensible Innovation".   (more…)
PeterH on March 5th, 2016
In the genes of the E-Class: The Mercedes-Benz 170 V of 1936
The Mercedes-Benz E-Class is a success story with a great tradition. One of its forebears is the Mercedes-Benz 170 V, which was presented to the world public in February 1936.
Driving comfort, downsizing and lightweight construction: these were just some of the features of this car, which also impressed with its new four-cylinder engine and spacious interior despite compact dimensions.      (more…)
PeterH on March 1st, 2016

The world's first passenger car with the highest protection level
Stuttgart.  The special-protection version of the Mercedes-Maybach is the first vehicle to be certified with the highest ballistic protection level VR10 for civilian vehicles.
These guidelines specify that the bodywork and windows must be able to withstand hardened steel core bullets fired from an assault rifle.
When it comes to blast protection in accordance with Directive ERV 2010, too, the Mercedes-Maybach S 600 Guard leads the luxury class.     (more…)