NEWS
PeterH on March 19th, 2016
Mercedes-Benz handed over 133,752 vehicles to customers in February, more than ever before in the second month of a year (+11.2%).
Record unit sales were achieved in Europe, Asia-Pacific and the NAFTA region.      (more…)
Continue reading about Mercedes-Benz achieves record unit sales for SUVs and compact cars in February
PeterH on March 17th, 2016
Unlimited opening times
Stuttgart.  Mercedes-Benz is launching into the open-air season with the first cabriolet based on the C-Class, thereby rounding off its range of cabriolets with a classic fabric soft top.
The new cabriolet's design interprets modern luxury with a youthful touch. Featuring plenty of high-quality details, its distinctive character is most apparent when the top is down.
The cabriolet is optionally available with the AIRCAP automatic draught stop system and AIRSCARF neck-level heating – for exceptional comfort during open-top driving 365 days a year.      (more…)
PeterH on March 14th, 2016

First high-performance variant of the new E-Class
Affalterbach.  Hot on the heels of the world premiere for the new Mercedes‑Benz E-Class, its first high-performance variant is on the way from Mercedes-AMG.
The E 43 4MATIC with the 3.0-litre V6 biturbo engine on board will represent the most powerful variant of the executive saloon when it is introduced in September 2016.     (more…)
PeterH on March 13th, 2016
Triple triumph: 40 years of the Mercedes-Benz 123 model series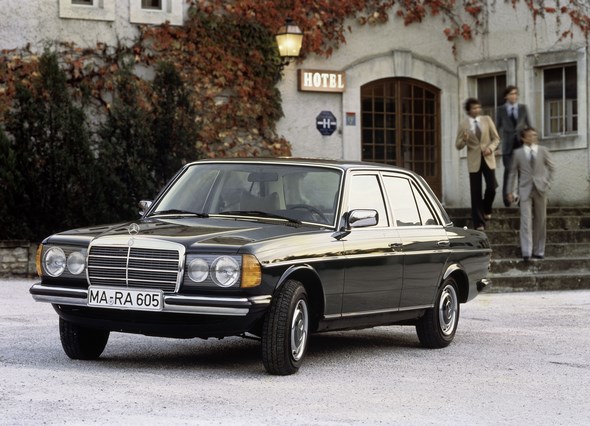 At its launch in January 1976, the Mercedes-Benz 123 model series offered a persuasive combination of elegance and multiple technical innovations.
The saloon was the first model to become available. The range was expanded a year later by the Coupé and, for the first time, an Estate model.
Over the course of the next ten years almost 2.7 million vehicles were built, among them also long-wheelbase saloons and chassis for special bodies.
The era of the 123 model series marks a particularly successful chapter in the success story of the E-Class, as the intermediate model from Mercedes-Benz was called from 1993 onwards.
The new E-Class of 2016 continues this success story.      (more…)
Continue reading about World premiere of successful E-Class predecessor in January 1976
PeterH on March 11th, 2016
SL: A tradition of elegant sportiness
The Mercedes-Benz SL has enjoyed iconic sports car status for more than six decades now.The latest generation is to be launched in April 2016.
It is all set to transport the unique tradition of elegant sportiness into the future.      (more…)
Continue reading about April 2016: Market launch for the latest generation
PeterH on March 10th, 2016

The legend – now even more dynamic
Stuttgart.  New appearance for an automotive icon: the technically and visually optimised Mercedes-Benz SL will be on the road from April 2016.
More powerful engines, the 9G-TRONIC automatic transmission, DYNAMIC SELECT with five transmission modes and Active Body Control with the curve tilting function all take the legend to a new dynamic level.      (more…)