NEWS
PeterH on January 31st, 2016
Mercedes-Benz announces its Autumn/Winter 2016 Fashion Campaign and Film, showing the new SL, shot by American photographer Jeff Bark.
The campaign features Russian supermodel Natasha Poly and latex works by Japanese designer Atsuko Kudo.      (more…)
PeterH on January 30th, 2016
Mercedes-Benz delivered 161,953 vehicles to customers in November (+7.4%) – more than ever before in a November.
Unit sales of full-year 2014 already surpassed after eleven months (1,693,494 units, +13.9%)
Ola Källenius, Member of the Board of Management, Mercedes-Benz Cars Marketing & Sales: "November 2015 was the best-selling November for Mercedes-Benz so far. Our SUVs and compact cars in particular are extremely popular with the customers. We achieved new records in both segments and sold more than 50,000 units of each of those two vehicle types."
Mercedes-Benz premium-market leader in Germany, Japan, Spain and Australia
Continue reading about Mercedes-Benz achieves best-selling November
PeterH on January 29th, 2016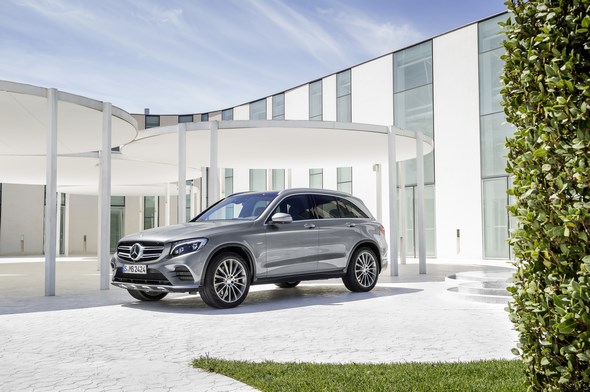 The testers at TÜV Süd have confirmed that the new GLC has outstanding environmental compatibility, thereby also confirming the stringency of the development work for environmentally friendly vehicles.
Continue reading about "Outstanding environmental compatibility" for the GLC
PeterH on January 28th, 2016
The Mercedes-Benz G-Class has been writing an incomparable success story since 1979. "designo manufaktur" is now making the classic cross-country vehicle even more individual ex factory.     (more…)
PeterH on January 27th, 2016
During Stars & Cars: free admission to the Mercedes-Benz Museum
What a year for motorsport it has been: on 12 December, the Mercedes-Benz Museum together with fans of the brand celebrates the brilliant 2015 motorsport season.       (more…)
Continue reading about The most successful motorsport year in company history
PeterH on January 26th, 2016
The Mercedes-Benz "Concept IAA" (Intelligent Aerodynamic Automobile) is two cars in one: an aerodynamics world champion with a Cd value of 0.19 and a four-door coupé embodying irresistible design.     (more…)