NEWS
PeterH on April 2nd, 2017

More powerful, more economical and cleaner
Stuttgart/Sindelfingen. The biggest strategic engine initiative in the history of Mercedes-Benz will enter its decisive phase in 2017.
Following the launch of the new four-cylinder diesel engine in spring 2016, next year will see the addition of no fewer than four more members to the all-new family of engines: six-cylinder in-line engines in both diesel and petrol versions, a new four-cylinder petrol engine and a new biturbo V8. (more…)
Continue reading about Extensive strategic engine initiative from Mercedes-Benz
PeterH on April 1st, 2017

Exclusive coupé now even more exclusive
Stuttgart. Mercedes-Benz is extending its range of exclusive special models now with the SClass Coupé: the "Night Edition" will enter the European market in April 2017, with a US launch following in August 2017.
Continue reading about From April 2017: Mercedes-Benz S-Class Coupé "Night Edition"
PeterH on March 31st, 2017
Mercedes-Benz increased its unit sales in November by 12.7% to 182,602 vehicles, thus achieving its 45th consecutive record month.
Sales were especially strong of the new E-Class Saloon and Estate last month; those models attained growth of around 40% to a new best-ever figure.
Continue reading about Mercedes-Benz surpasses total unit sales of the previous year already in November
PeterH on March 29th, 2017
High-End Summit – The First Maybach Cabriolet and the Most Powerful E-Class Ever
Los Angeles. At the 2016 LA Auto Show, Mercedes-Benz Cars is presenting two new models from the very pinnacle of their respective classes.
Celebrating their world premieres are the first cabriolet from luxury brand Mercedes-Maybach along with the most powerful E-Class ever, which sees Mercedes-AMG set the new benchmark in the performance segment.
Continue reading about Mercedes-Benz Cars at the 2016 LA Auto Show
PeterH on March 27th, 2017

Mercedes-AMG to build up Customer Sports involvement in the US
Affalterbach (GER). In 2017, the Mercedes-AMG GT3 will be racing in the most important North-American sports car series for the first time. In the IMSA WeatherTech SportsCar Championship, Riley Motorsports will campaign two Mercedes-AMG GT3 race cars.
One of the team's cars will run as "AMG-Team Riley Motorsports", and one car will run as WeatherTech Racing, with sponsorship from the series' title sponsor. (more…)
PeterH on March 26th, 2017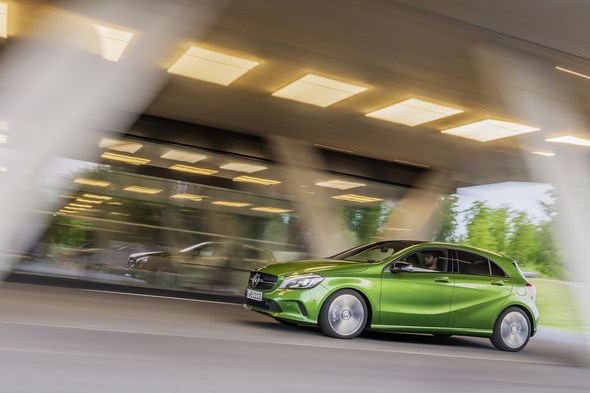 Mercedes-Benz increased its unit sales by a double-digit growing rate in October, delivering a new high of 173,096 vehicles (+11.5%). In Europe and Asia-Pacific, the Stuttgart-based company with the three-pointed star achieved the highest unit sales ever in an October.
In China, the biggest single market, Mercedes-Benz already surpassed its unit sales of full-year 2015 in October. In addition, the milestone of five million Mercedes-Benz compact cars sold since their launch was passed. (more…)
Continue reading about Mercedes-Benz: Successful October due to strong unit sales in China