NEWS
PeterH on August 19th, 2016

Mercedes-Benz starts production of the new GLC Coupé
Mercedes-Benz Bremen plant expands its production portfolio to ten models with the GLC Coupé.
Second all-new model to be launched in Bremen in 2016.
Game, set and space
Stuttgart.  The estate version of the new E‑Class is all set to be served up at the MercedesCup tennis tournament in Stuttgart: making its début, the sixth-generation model is as dynamic as the tennis pros and as spacious as centre court.
Innovative engineering and a compelling conception of space make it the most intelligent estate that Mercedes-Benz has ever built.      (more…)
Affalterbach.  Coinciding with the world premiere of the new E-Class Estate from Mercedes-Benz, Mercedes-AMG is presenting the new E 43 4MATIC Estate.
With the powerful 295 kW (401 hp) 3.0-litre V6 biturbo engine, 9G‑TRONIC automatic transmission with shortened shift times, rear-biased AMG Performance 4MATIC all-wheel drive and model-specific suspension, the first performance stage of this all-rounder boasts the AMG brand's hallmark driving performance.
Continue reading about The new Mercedes-AMG E 43 4MATIC Estate
All Mercedes-Benz model series will be electrified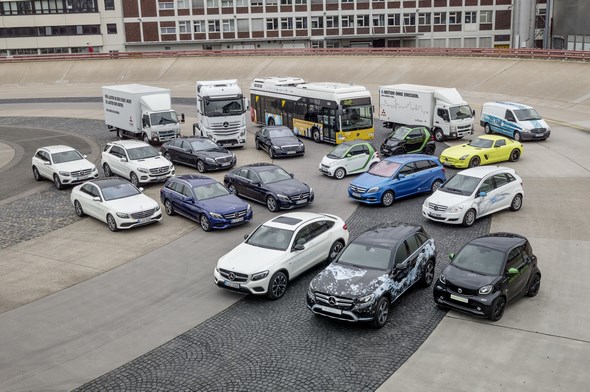 Stuttgart.  Daimler will invest more than seven billion euro in 'green' technologies in the next two years alone.
Shortly, smart will be the only automaker worldwide to offer its entire model range both powered by internal combustion engines or operating on battery power.      (more…)
Continue reading about Daimler invests massively in green powertrain technologies
PeterH on June 29th, 2016
Unlimited opening times
Stuttgart.  Mercedes-Benz is launching into the open-air season with the first cabriolet based on the C-Class, thereby rounding off its range of cabriolets with a classic fabric soft top.     (more…)
PeterH on June 27th, 2016
Sales start for the new C‑Class Cabriolet – Open‑air enjoyment on 365 days of the year
Stuttgart. Ready for the summer: The first convertible based on the C‑Class can now be ordered. It represents the attractive entry level into the family of Mercedes‑Benz convertibles, and is to be had from €42,215.25 (price in Germany incl. 19% VAT).      (more…)