NEWS
PeterH on September 24th, 2016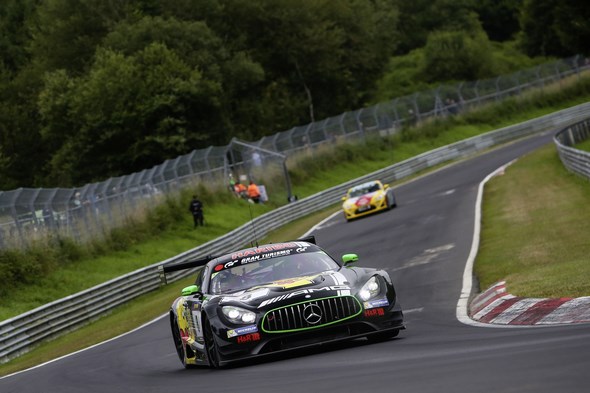 HARIBO Racing Team-AMG #8 wins sixth round of the VLN endurance racing championship       (more…)
Continue reading about Victory for Mercedes-AMG at the Nürburgring-Nordschleife
PeterH on September 23rd, 2016

Versatility and intelligence in a striking outfit
Stuttgart.  From unpaved tracks to rock climbing or steep serpentine roads to a snow-bound ski lodge – the new E‑Class All‑Terrain takes routes where conventional estates often have to give up effortlessly in its stride thanks to greater ground clearance with large wheels and 4MATIC all-wheel drive as a standard feature.
And it also cuts a fine figure thanks to its striking look with powerful flared wheel arches and SUV radiator grille. The E‑Class All‑Terrain will celebrate its world premiere at the Paris Motor Show 2016. The market launch will follow in the spring of 2017.    (more…)
Continue reading about New Mercedes-Benz E-Class All-Terrain
PeterH on September 23rd, 2016
Mercedes-Benz delivered more than 156,000 vehicles to customers in August – an increase of 11.8%. The main contribution towards this increase came from the strong rise in unit sales of SUVs of approximately 40%.
Mercedes-Benz was able to surpass its strongest August to date in the previous year due to double-digit growth in the Asia-Pacific region and in the domestic market.     (more…)
Continue reading about Mercedes-Benz delivers its four-millionth SUV in the strongest-selling August
PeterH on September 8th, 2016

Olympic gold medallist Lars Riedel lines up for Saxony Classic 2016 rally in Mercedes-Benz 500 SL
The Saxony Classic rally (18 to 20 August 2016) aptly describes itself as Saxony's longest car museum.
Around 200 classic vehicles are registered to take part this year, and will be seen on some of the state's stunning roads and on the Sachsenring.     (more…)
Continue reading about Picture book setting and idyllic routes
PeterH on September 6th, 2016

Intelligent help for rescue services
The Rescue Assist App from Mercedes-Benz provides support for emergency services at the scene of an accident by giving quick access to the rescue cards for the various types of vehicle via a smartphone or tablet. The latest update supplies three-dimensional views as well as augmented reality imagery.
The updated app is a repository of rescue cards for all Mercedes-Benz passenger cars and vans, as well as for some models from Fuso, one of Daimler Trucks' commercial vehicle brands.
The digital rescue data sheets can often be an invaluable source of information, helping the emergency services to free passengers quickly and safety from vehicles that have been involved in accidents.
The rescue cards show an overview of safety-critical components such as airbags, batteries and fuel lines. In the case of electric and hybrid vehicles they also show all high-voltage components.
With the help of the three-dimensional views, rescue teams are able to work out even more quickly the best and safest place to apply cutters.
The 3D-models can be freely rotated and scaled up or down within the app. Augmented reality images bring further benefits: all the components of the vehicle are rendered in precise, photorealistic detail in images that, to a wide extent, reflect what can be seen of the actual damaged vehicle – a great advantage for the rescue services at the scene of the accident.
A further advantage of the Mercedes-Benz Rescue Assist App is that it is not necessary to have online access.
The app also functions offline, thus ensuring that no time is lost during a rescue. Every new Mercedes-Benz, smart and Fuso is fitted as standard with two QR codes, affixed in a clearly visible position on the B-pillars and inside the fuel filler flap.
As soon as the QR code is scanned with the camera of the smartphone or tablet, the relevant rescue card will open up in the Rescue Assist App.
Owners of older vehicles can arrange for the appropriate QR code to be retrofitted by their Mercedes-Benz Service Partner.
The Rescue Assist App includes details of all Mercedes-Benz passenger car models built since 1990, along with Mercedes-Benz vans since 1996 and all smart models built since 1998.
On the commercial vehicle front, Fuso Canter 467 models from the year 2005 onwards and Canter 468 from 2013 are also included.
The app, which is constantly being updated, is available in 24 languages for both iOS and Android devices. It can be downloaded free of charge.
PeterH on September 4th, 2016
The "Bertha Benz" S-Class successfully drove autonomously from Mannheim to Pforzheim in 2013.
Now, just three years later, it is being retired to the Museum