Technology
PeterH on October 20th, 2015
A component of COMAND Online, Traffic Sign Assist helps the driver to obey the rules of the road – particularly beneficial when driving on long, monotonous stretches of road with variable message signs, through roadworks or in unfamiliar cities.
PeterH on October 17th, 2015

Commands at the touch of a finger
The touchpad in the new C-Class developed by Mercedes-Benz marks an evolutionary step. As on a smartphone, all the head unit functions can be operated using finger gestures.      (more…)
PeterH on October 12th, 2015
In online contact with the car
Mercedes-Benz is introducing a new package of services in Europe under the name "Mercedes connect me".      (more…)
PeterH on October 9th, 2015
MAGIC VISION CONTROL adaptive windscreen washing system
Conjuring trick for outstanding visibility
World premiere – wipe and wash systems folded into one
A duct system takes the water directly to the wiper blade
Three partly autonomous wash programmes
Fully heated system against snow and ice
PeterH on October 7th, 2015
Where is the danger? Scene labelling allows complex traffic situations to be reliably understood
Has he stopped? Or is he walking? Identifying the intentions of crossing pedestrians
All clear? City-centre lane changing made easy
Where next? Identifying intentions to turn or change lane
Closing presentation of UR:BAN research project
Continue reading about Driver assistance systems for the city: seeing and recognising dangers in the same way as a human
PeterH on October 4th, 2015
Head-up-Display: In focus – with AMG-exclusive features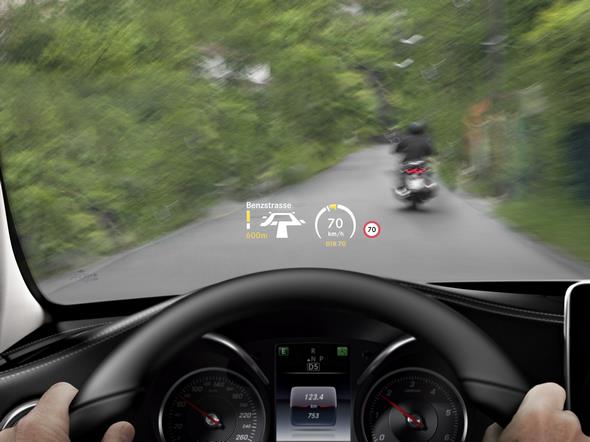 An optional head-up display is a new feature in the C-Class. As in a jet fighter, it projects important information directly into the driver's field of vision on the windscreen, ensuring that there is less distraction from the road ahead.