Technology
PeterH on April 10th, 2012
Stuttgart – The introduction of the new SLK 250 CDI by Mercedes-Benz not only marks the continuation of the company's unique diesel engine heritage, but also serves to counter in impressive style the common misconception that diesel engines and sports cars are incompatible.
Continue reading about SLK 250 CDI Roadster with 'power diesel'
PeterH on April 4th, 2012
"Yellow Angel" award for active safety
Most important automotive innovation prize awarded for the seventh time
Jury votes a Daimler innovation to first place for the fourth time
Europe's largest automotive association, the ADAC (German Automobile
Continue reading about ADAC award for its Active Blind Spot andActive Lane Keeping Assist systems
PeterH on February 8th, 2012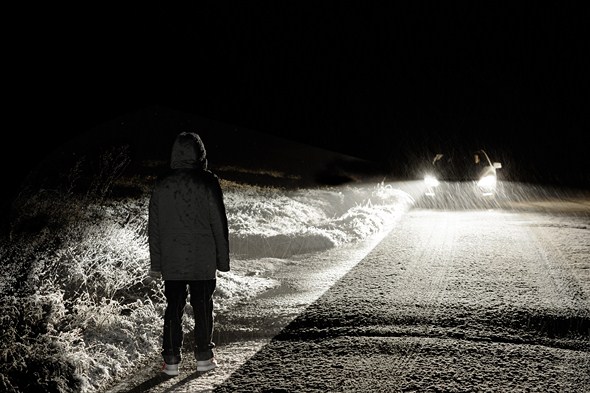 Caution, pedestrian on the road!
The Night View Assist Plus with new spotlight function is a complex combination of a variety of technical functions.
Infrared headlamps, night vision camera, multipurpose camera, spotlight headlamps, instrument cluster display and headlamp switch are all coordinated by several control units using complex software.
Continue reading about In detail: how the spotlight function actually works
PeterH on December 17th, 2011
Redefinition of automotive luxury: emission-free driving in First Class
      Trailblazing concept for large, luxurious automobiles
      F-CELL Plug-in HYBRID with a range of 1000 km
      Revolutionary hydrogen storage technology
      Lithium-sulphur high-voltage battery with high energy density
      Pioneering battery charging by induction
      e4MATIC–all-wheel drive with four wheel electric motors and individual torque control at each wheel
      Bodyshell of lightweight hybrid construction with gull-wing doors for optimal access, more safety and reduced weight
      Innovative saloon car architecture of avantgarde design
      Driver-fitness safety and ease of operation at the highest level, thanks to natural touch, gesture and voice control
      Always online, always connected with "@yourCOMAND" Cloud-based infotainment
Continue reading about The new Mercedes-Benz F 125! research vehicle
PeterH on September 12th, 2011
Focus On Digital Brand Communication and Social Media
Live streaming of press conference and blogger talk at the IAA
Large-scale online casting on Facebook and Mercedes-Benz Reporter Blog
Mercedes-Benz.tv iPad and iPhone app wins two design prizes  

(more…)
Continue reading about Mercedes-Benz intensifies digital activities
PeterH on September 3rd, 2011
Mercedes-Benz innovation: NANOSLIDE for lower consumption
Stuttgart – After five years and use exclusively in AMG engines, twin‑wire arc spraying technology will now also be used in the series production of Mercedes-Benz diesel engines. Mercedes-Benz was the developer of what is now known as NANOSLIDE technology, in which twin-wire arc spraying is used to melt iron/carbon wires and spray them onto the cylinder surfaces of the lightweight aluminium crankcase with the help of a gasflow.
Very fine finishing of the resulting nano-crystalline iron coating creates an almost mirror-like, smooth surface with fine pores, which reduces friction and wear between the piston assembly and the cylinder wall. Other advantages include lower engine weight, less fuel consumption and lower emissions. This innovation from Mercedes-Benz has been successfully used in the 6.3-litre AMG engines since 2006.
Continue reading about Friction losses minimised by NANOSLIDE technology