PeterH on June 25th, 2016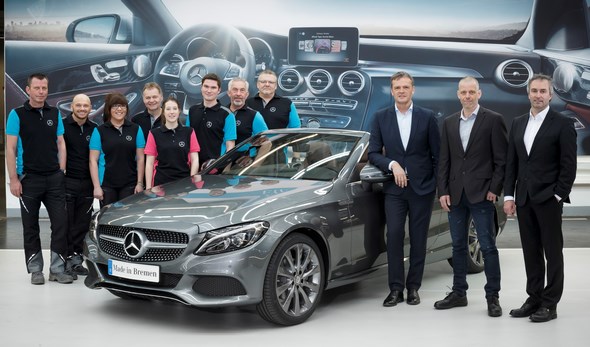 Mercedes-Benz starts production of the C-Class Cabriolet
Mercedes-Benz Cars is systematically expanding its product portfolio and is building the first C-Class Cabriolet.
C-Class Cabriolet is to be produced at the Bremen plant, rounding off the Bremen-made C-Class family, so far including Saloon, Estate and Coupé.
Markus Schäfer, Member of the Divisional Board Mercedes-Benz Cars, Production and Supply Chain Management: "The new C-Class Cabriolet is a fascinating vehicle with emotional appeal. The start of production in Bremen is symbolic of the growth strategy pursued by Mercedes-Benz Cars. Our aim is to offer the right vehicle for every customer."
Bremen plant's production portfolio grows to nine models – the addition of the GLC Coupé this summer will take the total to ten.