A-class
PeterH on March 24th, 2013
Sporty emphasis for the A-Class
Stuttgart/Geneva. Mercedes-Benz Sport is now offering a broad palette of products to personalise the A-Class. At the Geneva Motor Show the company will use an A 180 in polar silver with detachable body parts in Jupiter red to demonstrate the numerous details with which an A-Class can be sportily upgraded using Genuine Accessories.
Mercedes-Benz Sport will also be presenting the entire product portfolio in their own exhibition area. (more…)
Continue reading about Mercedes-Benz Sport extends its portfolio
PeterH on December 17th, 2012
Euro NCAP: top marks for the A-Class and high customer demand
Stuttgart.  In the latest round of tests conducted by the European safety organisation Euro NCAP, the new Mercedes-Benz A-Class was awarded five stars for outstanding occupant safety. (more…)
PeterH on October 17th, 2012
A1 performance: A-Class receives Environmental Certificate
With fuel savings of up to 26 percent, emissions as low as 98 g CO2/km, a best-in-class Cd value of 0.27 and all petrol-engine variants complying with the Euro 6 emissions standard, the A-Class sets new benchmarks in efficiency. (more…)
Continue reading about A 180 CDI with emissions of only 98 g CO2 per kilometre
PeterH on October 12th, 2012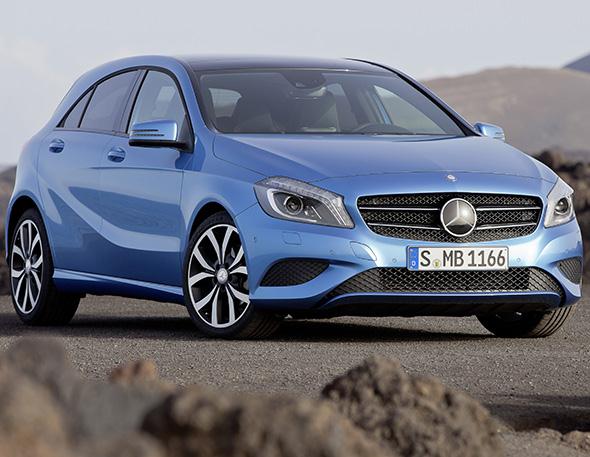 Passing the test with flying colours
Stuttgart. Following the market launch of the new A-Class on 15 September, delivery of the model designed for use as a driving school vehicle has now commenced. (more…)
PeterH on September 26th, 2012
New A-Class wins the heart of the French
Paris. At this year's Mondial de l'Automobile, Mercedes-Benz is presenting its new A-Class before a public of millions. From this premiere in France at this most-visited automotive fair in the world – in 2010 around 1.26 million tickets were sold – the Stuttgart-based automaker expects additional impulses for its new compact model.
Continue reading about Record number of visitors at market introduction in France
PeterH on September 12th, 2012
The development of the A-Class: the design
The most progressive design in the compact class
Stuttgart. The pulse of a new generation. The new Mercedes-Benz A-Class caused a furore. Its first presentation at the Geneva Motor Show made headlines: "A" for all perfectly done" (auto motor & sport), "A" as in "all different" (Focus), "Top-class, this "A" (Bild), "A" as in "all new" (Der Spiegel), "Muscular, low, sporty" (AutoBild).