Amg
PeterH on September 18th, 2012
First class: the perfect blend of style and performance
Affalterbach – Luxury and refinement, striking design, maximum safety and the dynamism so typical of the brand: the new high-performance SUV, the GL 63 AMG, combines compelling technologies with an extensive range of standard equipment and pure ride comfort for up to seven passengers.
PeterH on September 15th, 2012
Exclusive SUV with V8 biturbo engine
The new Mercedes-Benz ML 63 AMG stands for efficiency and performance, exclusivity and a superlative driving experience. Running on 11.8 litres of fuel per 100 kilometres (NEDC combined, 276 g CO2/km), the high-performance SUV undercuts its predecessor by 28 percent.
PeterH on September 13th, 2012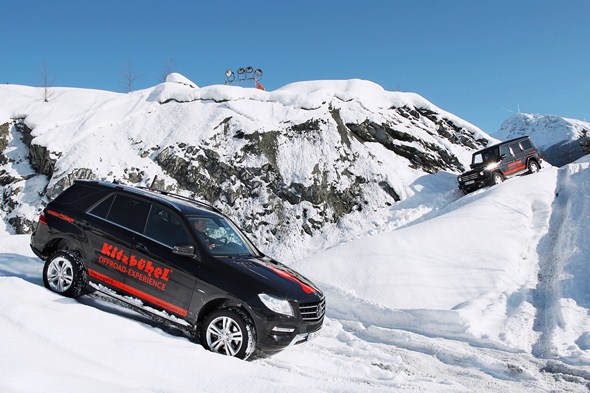 Helping to ensure a safe, confident and enjoyable driving experience
Stuttgart – Mercedes-Benz is starting the 2012/2013 season with a new wide-ranging programme of driving safety training events designed to appeal to all types of drivers. Courses for young people, beginners, advanced and even expert drivers are being offered at 14 locations throughout Germany using vehicles generally provided by Mercedes-Benz – whether saloons, coupés, roadsters or off-road vehicles.
The goal of the events is to help drivers to handle their vehicles in a safer and more confident manner, even in emergency situations – and of course to ensure that they enjoy the experience of driving.
Continue reading about New driving safety training courses from Mercedes-Benz and AMG
PeterH on September 7th, 2012
Two-door coupé with output of up to 358 kW (487 hp) completes model family
The new C 63 AMG coupé – emotion and high performance at its most attractive
Continue reading about The new C 63 AMG coupé – emotion and high performance at its most attractive
PeterH on September 1st, 2012
SLS AMG and new C 63 AMG Estate on standby in the Formula 1 World Championship
Affalterbach – Ready for the starting event of the Formula 1 World Championship in Melbourne, Australia (25-27 March 2011), Mercedes-AMG is once again providing the Official F1™ Safety Car and the Official F1™ Medical Car. The task of the SLS AMG and the new C 63 AMG Estate is to ensure maximum safety in dangerous racing situations or following an accident.
Continue reading about High-performance cars from Mercedes-AMG ensure safety
PeterH on September 1st, 2012
Mercedes-Benz presents Tom Sachs in follow-up to the Avant/Garde Diaries
Exhibition of the "Miffy Fountain" sculpture by Tom Sachs on the "Walk of Art"
Artist's conversation with Tom Sachs and Jeffrey Deitch from the Museum of Contemporary Art in Los Angeles as part of the official SAM programme
Test drives with AMG models
Continue reading about Mercedes-Benz and Mercedes-AMG at the 5th St. Moritz Art Masters