Amg
PeterH on April 14th, 2010
OK, so a single swallow doesn't make a summer. But if forecasting a return to good times is your thing, you will be buoyed by the UK arrival of Mercedes' limited-edition S65 AMG designo. (more…)
PeterH on April 13th, 2010
PeterH on April 5th, 2010
Shortly after the next-generation Mercedes-Benz B-Class launches in 2011, it has been reported that the United States will receive its own version of this car. Now, a new report from Automotive News suggests that an AMG-tuned version of the diminutive B-Class could be in the works, as well, set to rival European hot hatches like the Audi S3 and Volkswagen Golf R.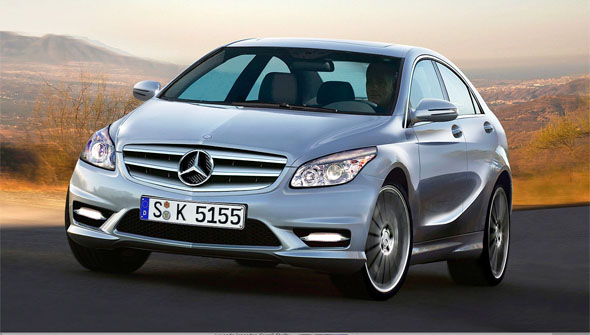 The tuned-up B-Class will be the cheapest AMG offering, in an attempt to attract younger enthusiasts to Mercedes-Benz showrooms. AN reports that the smallest AMG will likely be powered by the all-new 5.5-liter, twin-turbo V8 a specially tuned four-cylinder engine and, like all AMG models, will feature slightly revised body work, better brakes, a sportier suspension and revised interior trim.
Expect the AMG B-Class to launch in Europe around early 2012. No official timing for the U.S.-version of the B-Class has been set, but 2012 seems like a safe bet for that, as well.
Source: Autoblog
PeterH on March 31st, 2010

According to AutoMotorundSport Mercedes-Benz is preparing a new E65 AMG sports sedan. The car will be priced at about 150,000 Euro (around $200k at the current rates). It seems that the German brand has already patented the name, but the only other detail known at the moment is that the E65 AMG will be powered by a 6.0 liter V12 engine with a maximum output of 612 hp and a peak torque of 1000 NM of torque.
As soon as we find out more you will be the first to know, stay tuned!