Amg
PeterH on April 5th, 2010
Shortly after the next-generation Mercedes-Benz B-Class launches in 2011, it has been reported that the United States will receive its own version of this car. Now, a new report from Automotive News suggests that an AMG-tuned version of the diminutive B-Class could be in the works, as well, set to rival European hot hatches like the Audi S3 and Volkswagen Golf R.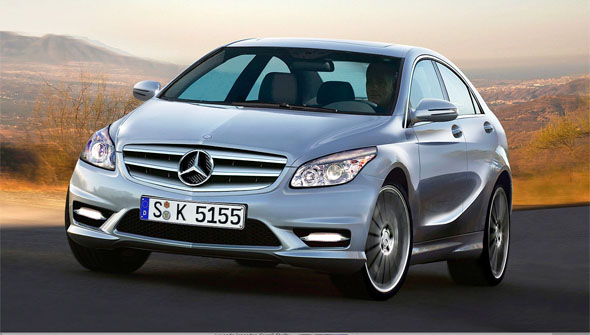 The tuned-up B-Class will be the cheapest AMG offering, in an attempt to attract younger enthusiasts to Mercedes-Benz showrooms. AN reports that the smallest AMG will likely be powered by the all-new 5.5-liter, twin-turbo V8 a specially tuned four-cylinder engine and, like all AMG models, will feature slightly revised body work, better brakes, a sportier suspension and revised interior trim.
Expect the AMG B-Class to launch in Europe around early 2012. No official timing for the U.S.-version of the B-Class has been set, but 2012 seems like a safe bet for that, as well.
Source: Autoblog
PeterH on March 31st, 2010

According to AutoMotorundSport Mercedes-Benz is preparing a new E65 AMG sports sedan. The car will be priced at about 150,000 Euro (around $200k at the current rates). It seems that the German brand has already patented the name, but the only other detail known at the moment is that the E65 AMG will be powered by a 6.0 liter V12 engine with a maximum output of 612 hp and a peak torque of 1000 NM of torque.
As soon as we find out more you will be the first to know, stay tuned!
PeterH on March 29th, 2010
Look up the word "superlative" in the dictionary and you won't see a picture of the 2011 Mercedes-Benz E63 AMG next to it. This is for one of two possible reasons. The first being that dictionaries are obsolete the moment the glue on the binding dries – maybe even before. The second possible explanation is that the E63 is just not that good. Here's a hint: The second explanation is very, very wrong. Find out why after the jump.
Continue reading about Review: 2010 Mercedes-Benz E63 AMG declares checkmate
PeterH on March 23rd, 2010
AMG looks set to build its own version of the next Mercedes B-class, which will go head to head with the Golf R and Audi S3 in the battle for the performance car buyer. (more…)
PeterH on March 23rd, 2010
Mercedes-Benz AMG GmbH, the performance-vehicle unit in Germany, will be headed by Ola Kaellenius, who will take his place as the new managing director starting April 1. (more…)
Continue reading about Ola Kaellenius named managing director of Mercedes-Benz AMG GmbH
PeterH on March 23rd, 2010
Mercedes-Benz USA announces its new title sponsorship of the Miami Beach Polo World Cup for the AMG brand. (more…)
Continue reading about AMG Announces Title Sponsorship of Miami Beach Polo World Cup