Amg
Affalterbach.  Coinciding with the world premiere of the new E-Class Estate from Mercedes-Benz, Mercedes-AMG is presenting the new E 43 4MATIC Estate.
With the powerful 295 kW (401 hp) 3.0-litre V6 biturbo engine, 9G‑TRONIC automatic transmission with shortened shift times, rear-biased AMG Performance 4MATIC all-wheel drive and model-specific suspension, the first performance stage of this all-rounder boasts the AMG brand's hallmark driving performance.
Continue reading about The new Mercedes-AMG E 43 4MATIC Estate
First mid-size SUV from Affalterbach

The mid-size SUV model series gains a particularly dynamic addition in the form of the new Mercedes-AMG GLC 43 4MATIC.
The 270 kW (367 hp) 3.0-litre V6 biturbo engine, the automatic transmission 9G-TRONIC with shortened shift times and the AMG performance 4MATIC all-wheel drive configured with a rear bias form the basis for an especially dynamic on-road driving experience.
PeterH on April 29th, 2016
Open-air performance for the C-Class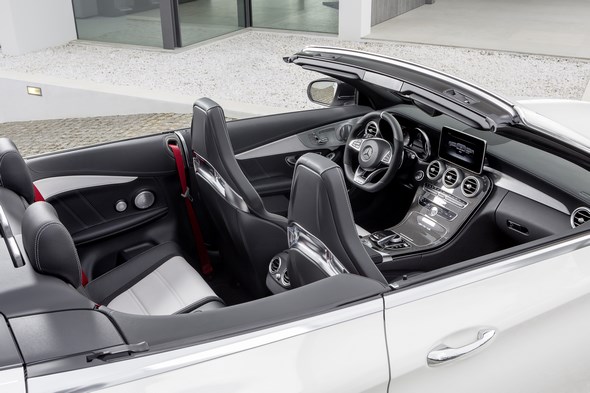 The new C 63 Cabriolet combines an intensive open-air ambience with the AMG V8 engine to create an exhilarating performance experience.
The biturbo engine developed in Affalterbach is available in two output ratings with 350 kW (476 hp) or 375 kW (510 hp) and provides performance on a par with a sports car.
PeterH on March 31st, 2016
For an even sportier A-Class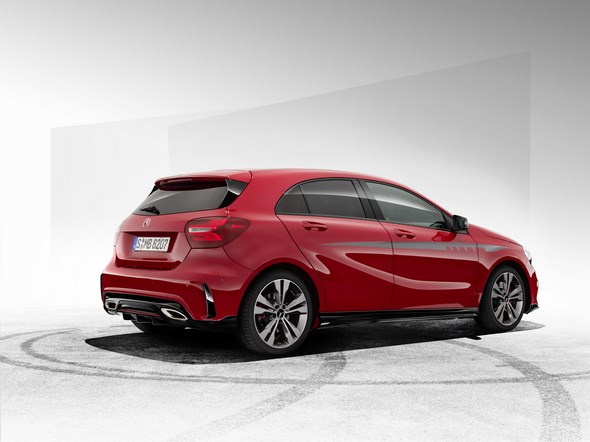 Stuttgart/Affalterbach. Mercedes-AMG is gradually expanding its accessories program: similar to the successful offer for the C-Class, Mercedes-AMG based in Affalterbach, Germany, now offers an exclusive body kit for the A-Class. (more…)
Continue reading about Now available, exclusive AMG body kit for the A-Class
PeterH on March 20th, 2016

New member of the C-Class Performance family
Affalterbach.  Mercedes-AMG has added another sporty model to its C-Class family: the new C 43 4MATIC Coupé.
For the highly dynamic driving experience that is the hallmark of the brand the Affalterbach-based development teams have put together a scintillating engineering package: the 270 kW (367 hp) 3.0-litre V6 twin-turbo engine is combined with the new 9G-TRONIC automatic transmission that provides agile gearshifts.
PeterH on March 14th, 2016

First high-performance variant of the new E-Class
Affalterbach.  Hot on the heels of the world premiere for the new Mercedes‑Benz E-Class, its first high-performance variant is on the way from Mercedes-AMG.
The E 43 4MATIC with the 3.0-litre V6 biturbo engine on board will represent the most powerful variant of the executive saloon when it is introduced in September 2016.     (more…)