Amg
PeterH on April 9th, 2015
Avantgarde meets Driving Performance
Mercedes-AMG is continuing its model initiative: following on from the successful A 45 AMG, CLA 45 AMG and GLA 45 AMG models, the Mercedes‑Benz CLA 45 AMG Shooting Brake is now the fourth high-performance compact car to be brought out, and it makes a stunning impression with its unique interior concept and its unrivalled mix of thrilling driving dynamics, excellent everyday usability and tremendous individuality.
Continue reading about The new Mercedes-Benz CLA 45 AMG Shooting Brake
PeterH on April 6th, 2015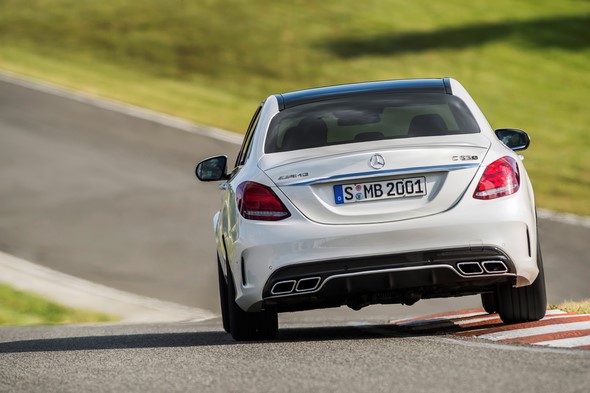 Mercedes-AMG, the sports car and performance brand within Mercedes-Benz, is further expanding its model range in the C-Class segment.
The new Mercedes-AMG C 63 as a powerful high-end sports car with rear-wheel drive is powered by a 4.0-litre V8 biturbo engine: this develops an output of 350 kW (476 hp) in the C 63 and 375 kW (510 hp) in the C 63 S, making the top V8 model the most powerful car in its segment.
Continue reading about Driving Performance to the power of two
PeterH on April 3rd, 2015
PeterH on March 30th, 2015
Small Size of a Big Dream Car
Stuttgart. The new Mercedes-AMG GT is the cause of a lot of excitement in the sport car market. Its technology is built upon the quest for perfection in drive dynamic, agility and sportiness.
Mercedes-Benz Accessoires now offers this high tech dynamically designed sports car in two, faithfully rendered, model cars in size 1:43 and 1:18.
Continue reading about Mercedes-Benz Collection presents: Mercedes-AMG GT Model Car
PeterH on March 26th, 2015
Efficiency meets performance
Stuttgart. Mercedes-Benz has thoroughly revised its best-seller in the SUV segment. The highlights of the new GLE include considerably more appealing front and tail ends and extensive measures which make new benchmarks with regard to emissions and drive system possible.
Across the available engine range, fuel consumption and CO2 emissions are reduced by 17 percent on average compared with the predecessor model series.
Continue reading about Première for the Mercedes-Benz GLE and Mercedes-AMG GLE 63
PeterH on March 18th, 2015
Maximum safety, maximum performance
Affalterbach.  Baptism of fire on the race track: The GT S and the C 63 S – the new high-performance cars from Mercedes-AMG – provide for maximum safety in the 2015 FIA Formula One World Championship™.
Continue reading about Mercedes-AMG GT S and C 63 S in action for the 2015 Formula 1® season