E-class
PeterH on April 7th, 2017
Carbon footprint reduced by over 40 percent
Stuttgart. The Mercedes-Benz E 350 e has successfully completed the TÜV validation audit and received the Environmental Certificate. This award is based on a Life Cycle Assessment in which the independent experts at TÜV Süd (the German Technical Inspection Authority) comprehensively assess the environmental impact of the passenger car over its entire life cycle.
PeterH on April 6th, 2017
Premiere in March 1977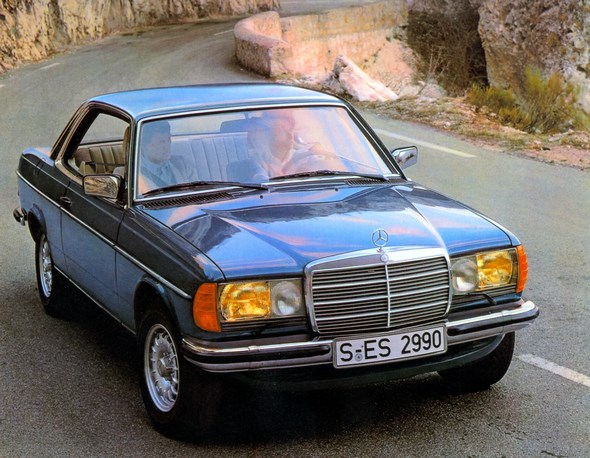 The cutting-edge technology and elegance so characteristic of Mercedes-Benz have always been expressed in a very special way in coupés. The three 230 C, 280 C and 280 CE models, presented by Mercedes-Benz 40 years ago in March 1977 at the Geneva Motor Show, linked into this tradition.
Today the model series C 123 is embedded in the history of the E-Class Coupés. The latest example of this is the model unveiled in January 2017 at the Detroit Motor Show, the new E-Class Coupé: It interprets its history in a highly contemporary fashion and with special sporty elegance.
Continue reading about "Optical individuality and visible verve": The Mercedes-Benz coupés of model series C 123
PeterH on March 17th, 2017
E-Class top-rated for safety
Stuttgart. The E-Class Saloon has achieved a full five-star Euro NCAP rating, significantly exceeding the standards the independent safety test requires a vehicle to attain in order to be awarded five stars.
PeterH on March 5th, 2017
The most powerful E-Class of all time
Affalterbach. Mercedes-AMG is redefining the performance saloon. The brand is turning the most intelligent executive saloon into the most powerful E-Class of all time in the shape of the next generation of the E 63 4MATIC+ and E 63 S 4MATIC+.
Continue reading about The new Mercedes-AMG E 63 4MATIC+ and E 63 S 4MATIC+
PeterH on March 3rd, 2017

Dynamism meets space and intelligence
Affalterbach. In the new E 63 4MATIC+* Estate and E 63 S 4MATIC+* Estate, MercedesAMG combines the brand's hallmark Driving Performance with high utility value and the intelligence of the EClass.
As in the Saloon, the 4.0litre V8 biturbo engine with an output of up to 450 kW (612 hp) and the fully variable AMG Performance 4MATIC+ all-wheel drive deliver outstanding driving dynamics.
Continue reading about The new Mercedes-AMG E 63 4MATIC+ Estate and E 63 S 4MATIC+ Estate
PeterH on February 27th, 2017

Market launch of the multitalented vehicle
Stuttgart. As the most versatile E-Class variant ever made, the All-Terrain model combines a striking SUV-style look with the intelligent space concept of the Estate, along with many innovative safety features plus a multi-award winning interior.
Continue reading about Available for ordering now: E-Class All-Terrain