E-class
PeterH on February 25th, 2017
Stuttgart. From unpaved tracks to rock climbing or steep serpentine roads to a snow-bound ski lodge – the new E-Class All-Terrain takes routes where conventional estates often have to give up effortlessly in its stride thanks to greater ground clearance with large wheels and 4MATIC all-wheel drive as a standard feature. (more…)
Continue reading about New Mercedes-Benz E-Class All-Terrain
PeterH on January 29th, 2017
First stage of AMG Performance for the E-Class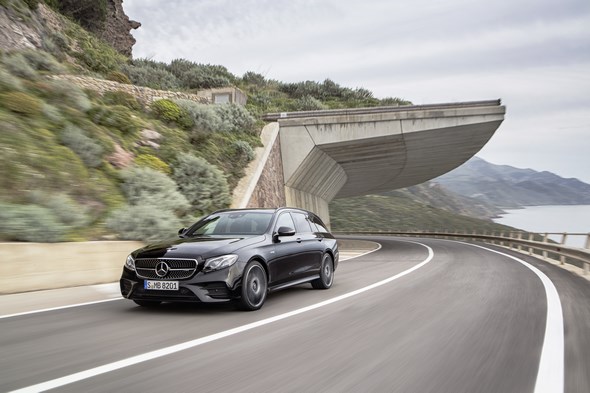 Mercedes-AMG presents the new members of the current E-Class family, the E 43 4MATIC Saloon and Estate models. They deliver the brand's hallmark Driving Performance with discrete technology, combined with a distinctive design and high everyday practicality.      (more…)
Continue reading about Mercedes-AMG E 43 4MATIC Saloon and Estate
PeterH on September 23rd, 2016

Versatility and intelligence in a striking outfit
Stuttgart.  From unpaved tracks to rock climbing or steep serpentine roads to a snow-bound ski lodge – the new E‑Class All‑Terrain takes routes where conventional estates often have to give up effortlessly in its stride thanks to greater ground clearance with large wheels and 4MATIC all-wheel drive as a standard feature.
And it also cuts a fine figure thanks to its striking look with powerful flared wheel arches and SUV radiator grille. The E‑Class All‑Terrain will celebrate its world premiere at the Paris Motor Show 2016. The market launch will follow in the spring of 2017.    (more…)
Continue reading about New Mercedes-Benz E-Class All-Terrain
PeterH on September 2nd, 2016

Open-air refinement: 25 years of the E-Class Cabriolet
Mercedes-Benz presented a sunny outlook for the upper medium class at the 1991 International Motor Show (IAA) in Frankfurt/Main.
That is where an elegant convertible celebrated its September premiere 25 years ago. The four-seater model with a fabric soft top belonged to the 124 series, which bore the name E-Class from 1993 onwards.       (more…)
Continue reading about September 1991: Premiere of a four-seater convertible in the 124 series
PeterH on August 31st, 2016

Efficient and intelligent
The new E-Class Estate is now available to order. With prices starting from €48,665.05 the newcomer costs on average 1.1 percent more than its predecessor when equipped to the same specification.
There is up to 1820 litres of load space and, in spite of a much sportier roof line, headroom and elbowroom in the rear are once again the best in this class.      (more…)
Game, set and space
Stuttgart.  The estate version of the new E‑Class is all set to be served up at the MercedesCup tennis tournament in Stuttgart: making its début, the sixth-generation model is as dynamic as the tennis pros and as spacious as centre court.
Innovative engineering and a compelling conception of space make it the most intelligent estate that Mercedes-Benz has ever built.      (more…)