E-class
Extension for the most intelligent executive saloon
Beijing.  At "Auto China 2016" in Beijing, Mercedes-Benz is presenting the long-wheelbase version of the E-Class, measuring an extra 140 millimetres in length.
Passengers in the rear of the saloon, which has been purpose-developed for China, enjoy the benefit of a considerably larger footwell area and seats with a host of comfort functions.
Continue reading about Premiere of the long-wheelbase version of the new E-Class
PeterH on March 14th, 2016

First high-performance variant of the new E-Class
Affalterbach.  Hot on the heels of the world premiere for the new Mercedes‑Benz E-Class, its first high-performance variant is on the way from Mercedes-AMG.
The E 43 4MATIC with the 3.0-litre V6 biturbo engine on board will represent the most powerful variant of the executive saloon when it is introduced in September 2016.     (more…)
PeterH on March 13th, 2016
Triple triumph: 40 years of the Mercedes-Benz 123 model series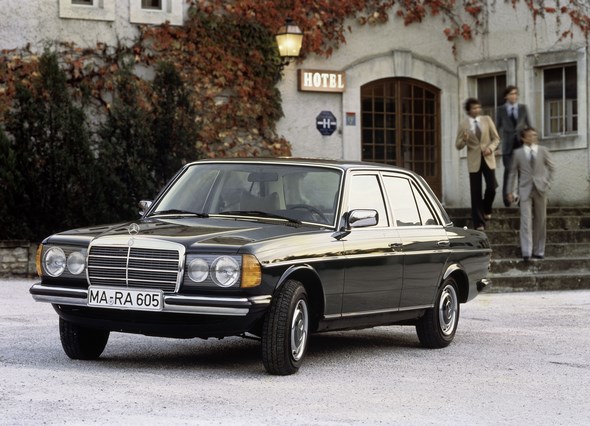 At its launch in January 1976, the Mercedes-Benz 123 model series offered a persuasive combination of elegance and multiple technical innovations.
The saloon was the first model to become available. The range was expanded a year later by the Coupé and, for the first time, an Estate model.
Over the course of the next ten years almost 2.7 million vehicles were built, among them also long-wheelbase saloons and chassis for special bodies.
The era of the 123 model series marks a particularly successful chapter in the success story of the E-Class, as the intermediate model from Mercedes-Benz was called from 1993 onwards.
The new E-Class of 2016 continues this success story.      (more…)
Continue reading about World premiere of successful E-Class predecessor in January 1976
PeterH on March 5th, 2016
In the genes of the E-Class: The Mercedes-Benz 170 V of 1936
The Mercedes-Benz E-Class is a success story with a great tradition. One of its forebears is the Mercedes-Benz 170 V, which was presented to the world public in February 1936.
Driving comfort, downsizing and lightweight construction: these were just some of the features of this car, which also impressed with its new four-cylinder engine and spacious interior despite compact dimensions.      (more…)
PeterH on February 4th, 2016

The new E-Class – in the fast lane with Active Lane Change Assist
Mercedes-Benz will expand the new Driving Assistance package of the future E-Class for the market launch in spring with "Active Lane Change Assist" and will thereby make the business class saloon car even more intelligent.      (more…)
Continue reading about The next step on the road to autonomous driving
PeterH on February 2nd, 2016
Mercedes-Benz is taking a big step into the future by numerous innovations with the new E-Class, including in terms of the design of the interior, which features a wide high-resolution next-generation dual display (12.3 inches per display) that appears to hover in space.     (more…)