Engine
PeterH on January 15th, 2015
The world's most powerful naturally aspirated eight-cylinder engine – made by Mercedes-AMG
Le Castellet – Mercedes-AMG has taken a completely new departure: the new AMG 6.3-litre V8 engine is the first in the world to combine the high-revving concept with a large displacement.
Developed entirely by AMG, this high-performance engine has a displacement of 6.3 litres and generates an output of 375 kW/510 hp at 6800 rpm, plus a maximum torque of 630 Newton metres, which makes the new power pack by AMG the world's most powerful naturally aspirated eight-cylinder production engine.
Continue reading about The new AMG V8 power unit with 375 kW/510 hp
PeterH on July 25th, 2014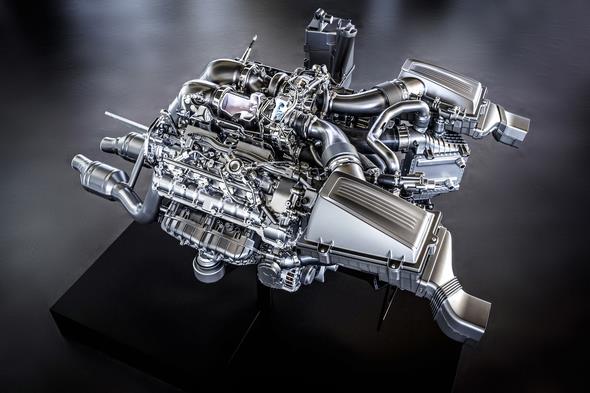 Powerful, innovative and efficient
Affalterbach.  Mercedes-AMG presents a new technological masterpiece: the AMG 4.0-litre V8 biturbo engine is a new development at the sporting heart of the new Mercedes-AMG GT car.
Continue reading about The new AMG 4.0-litre V8 biturbo engine
State-of-the-art production of V6 and V8 petrol engines
€1 billion invested in development and production
Innovative technology and exemplary approach to environmental protection

(more…)
Continue reading about Strong Powertrains from the Cradle of Engine Design
PeterH on January 5th, 2010
The push by governments around the world for stricter emissions regulations for new cars has all carmakers, from mainstream makes like Toyota and GM all the way up to exclusive brands like Mercedes Benz and even Ferrari working on new methods to clean up their act. (more…)
Continue reading about Mercedes Benz to phase out V12 engine
PeterH on December 17th, 2009
At a recent press event unveiling the new Mercedes-Benz E-Class Convertible board member of Daimler AG Group Research and Mercedes-Benz Cars Development, Dr. Thomas Weber, spoke of the company's plans to adopt cleaner, more fuel efficient engine technologies in its future models.
Continue reading about Mercedes to downsize AMG V8s and other future products…
PeterH on July 19th, 2006
Sheer driving pleasure – CLK-Class with new V8 engine and attractive equipment package


Bolstered by a new V8 engine developing 285 kW/388 hp, the CLK 500 Coupe and Cabriolet models now serve up sports car-esque driving pleasure. The newly developed 5.5-litre V8 engine boasts a peak torque of 530 Nm (outgoing model: 460 Nm), allowing the CLK-Class to deliver a virtuoso performance: the sprint from 0 to 100 km/h takes just 5.2 seconds (outgoing model: 5.9 seconds), while the top speed is 250 km/h (electronically limited).  (more…)