G-class
PeterH on September 20th, 2012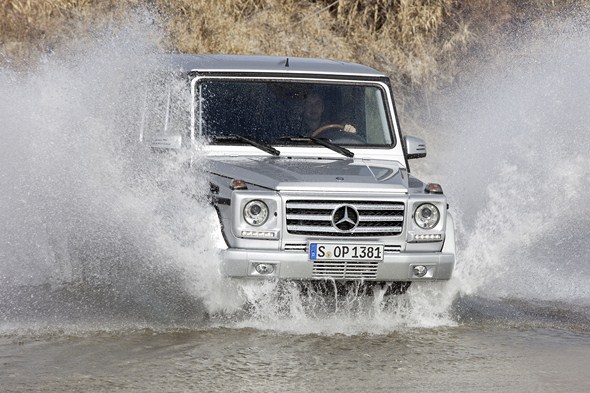 Forever young
Stuttgart – Mercedes-Benz has once again significantly upgraded the G‑Class, so reemphasising its position as the leader among off-road vehicles. The interior is characterised by high-quality appointments finished with exquisite materials.
The instrument cluster and centre console have been completely redesigned. The driver's field of vision now encompasses a colour screen, between two new round dials. The car features as standard the sophisticated COMAND Online infotainment system, including a navigation system and internet access.
PeterH on August 20th, 2012
Mercedes-Benz G 63 AMG and G 65 AMG
Affalterbach – High tech for the AMG off-road classic: the new G 63 AMG impresses with state-of-the-art drive technology, expressive design and increased fuel economy. All this is largely attributable to the AMG 5.5‑litre V8 biturbo engine delivering 400 kW (544 hp) and the AMG SPEEDSHIFT PLUS 7G-TRONIC automatic transmission system.
Even more exclusive is the new G 65 AMG: its AMG 6.0-litre V12 biturbo engine delivers 450 kW (612 hp) and reaches a maximum torque of 1000 newton metres – a record in the off-road segment.
PeterH on April 12th, 2012
Double victory for the G-Class
Stuttgart/Munich – The reader survey conducted by specialist publication "Off Road" to find the "2011 Off-Road Vehicle of the Year" has resulted in a double victory for the Mercedes-Benz G-Class.
Continue reading about Success for Mercedes-Benz in the "Off Road" reader survey

Monumental off-roader with shining stainless steel and chrome
Stuttgart – Mercedes-Benz is ushering in the spring with two new, luxuriously equipped special models in the G-Class. Among other enhancements, an extensive stainless steel package and mounted AMG features ensure a visually striking appearance for the "BA3 Final Edition" based on the short-wheelbase Station Wagon and the "Edition Select" with a long wheelbase. In the interior a Chrome package and many more comfort-enhancing extras dominate the ambience of this classic, which has continued to enjoy the affection of off-roader fans worldwide for no less than 32 years.  (more…)
Continue reading about Special G-Class models "BA3 Final Edition" and "Edition Select"
PeterH on December 15th, 2009
SLS AMG in a striking gold paint finish
Dubai (VAE) – The Mercedes-Benz SLS AMG, the highlight of this year's International Motor Show (IAA) in Frankfurt/Main, is on display in a stunning gold paint finish at the Dubai International Motor Show. This matt silk finish with the designation "AMG Desert Gold" lends an extraordinary aura to the new super sports car. (more…)
Continue reading about Premiere at the "Dubai International Motor Show"

Modern-day classic puts in a compelling performance
It has been the definitive cross-country vehicle since 1979. It has won the Paris-Dakar Rally, is deemed a worthy means of transport for the Pope, ranks as an automotive design icon, is a serial winner of readers' polls and constitutes the gene pool for a Mercedes-Benz SUV family that now numbers four model series in all. (more…)