Glc-class
PeterH on December 24th, 2016

Unique combination of agility, elegance and everyday practicality
Affalterbach.  Mercedes-AMG is once again extending its product portfolio with the addition of a very dynamic model: the new GLC 43 4MATIC Coupé* combines a sporty, elegant design with the brand's hallmark Driving Performance and the advantages of an SUV in terms of seating position, interior flexibility and also traction off the beaten track.      (more…)
Continue reading about The new Mercedes-AMG GLC 43 4MATIC Coupé
First mid-size SUV from Affalterbach

The mid-size SUV model series gains a particularly dynamic addition in the form of the new Mercedes-AMG GLC 43 4MATIC.
The 270 kW (367 hp) 3.0-litre V6 biturbo engine, the automatic transmission 9G-TRONIC with shortened shift times and the AMG performance 4MATIC all-wheel drive configured with a rear bias form the basis for an especially dynamic on-road driving experience.
Sports coupé meets "G"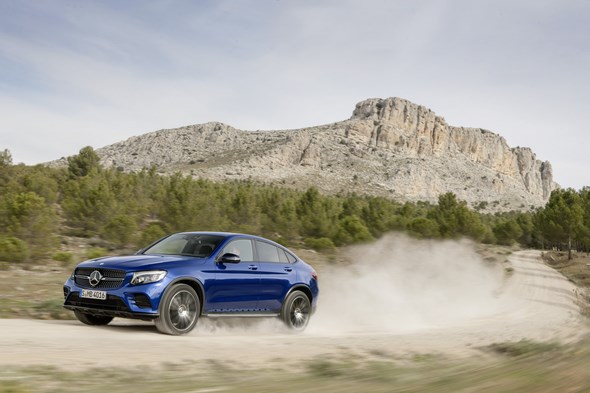 The dynamic-expressive styling of the GLC Coupé concept was a centre of attention at its world premiere in 2015 in Shanghai.
Continue reading about World premiere of the Mercedes-Benz GLC Coupé
PeterH on February 5th, 2016
The Mercedes-Benz GLC achieves the top score in the Euro NCAP rating. The new mid-size SUV has received five stars, continuing the Mercedes-Benz success story in impressive style.
In 2014 the GLA, C-Class and V-Class were likewise awarded five stars by Euro NCAP.      (more…)
PeterH on January 29th, 2016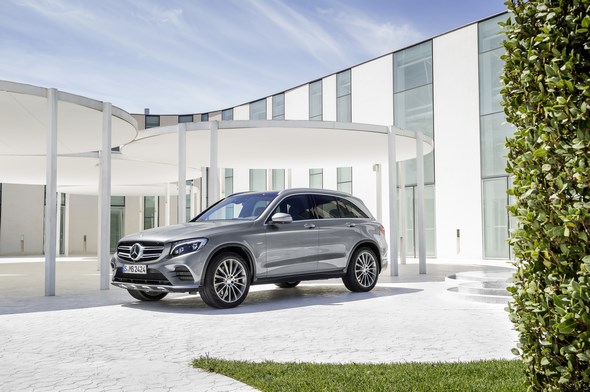 The testers at TÜV Süd have confirmed that the new GLC has outstanding environmental compatibility, thereby also confirming the stringency of the development work for environmentally friendly vehicles.
Continue reading about "Outstanding environmental compatibility" for the GLC
PeterH on September 28th, 2015

New Mercedes-Benz GLC genuine accessories
Mercedes-Benz will show how its vehicles can be individualised to an exceptionally high standard with products from Mercedes-Benz Accessories GmbH on a GLC 250 d 4MATIC model being exhibited by the brand at the Frankfurt International Motor Show.      (more…)
Continue reading about Mercedes-Benz Accessories GmbH at the 2015 Frankfurt International Motor Show