S-class
PeterH on November 7th, 2005

2005-11-07 I've done it!
Now I have finally done it, I have driven the W221 new S-Class. I can easily sum it all up in a big AHH! They have done it again. Mercedes-Benz has once again built a car that will go to history as one of "the best cars in the world". (more…)
PeterH on September 20th, 2005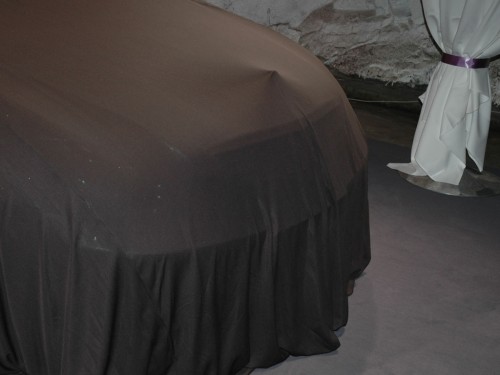 Im just back from the big releaseparty of the W221 here in Stockholm, Sweden. A very highclass arrangement with nice food and drinks and of course the new S-class.
They had two silver S500 and one silver S350.
As soon as the veils fell people were all over the cars touching and sitting in them and i must say the new S-class looks even more stylish in real life.


I guess you will have to see it to beleive it!
PeterH on September 15th, 2005
Stuttgart  A piece of the original on your wrist: An exclusive wrist-watch reflecting the style of the striking on-board instrument is the highlight of the new S-Class collection. The discerning aficionados of the new Mercedes-Benz flagship can choose from a total of 17 products offered by Mercedes-Benz Accessories GmbH  from an intricately-designed cigar case to a precious miniature car made of 925 sterling silver. Throughout the range, the original has inspired the accessory designers in a variety of ways. Mercedes-Benz sales partners will start selling the full S-Class Collection range parallel to the market launch of the new S-Class at the end of September.




The highlight of the S-Class Collection is the perfect link between man and automobile as the new watch faithfully reflects every minute detail of the rectangular case and the bright face of the analogue clock in the S-Class cockpit. This being so, whoever wears the watch carries a small but sophisticated piece of the S-Class on their person. Mercedes-Benz Accessories GmbH designed the unique shape of the multi-part stainless-steel case in close co-operation with the Sindelfingen-based Design Centre. The extra hand for seconds, the display of the date, and the discreet three-pointed star on the dial of the high-precision quartz timepiece are sensible modifications of the original as seen in the cockpit. The extraordinarily supple Russia-calf strap perfectly follows the shape of the wrist, while the easy-to-operate, stainless-steel collapsible lock epitomises the high wearing comfort.
PeterH on September 14th, 2005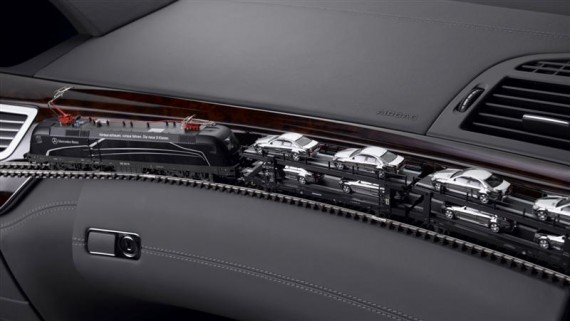 Model vehicle freight train marks premire of the new S-Class
All tracks clear for the new Mercedes-Benz S-Class
On occasion of the new S-Class to be premiered at the IAA Frankfurt Motor Show in September in Frankfurt, Mercedes-Benz Accessories GmbH presents a limited exclusive H0 gauge model vehicle freight train edition of 1,200 units only. The train consists of a series-182 locomotive and three double-decker car transport carriages holding a total of 24 silver chromium-plated new S-Class models in the 1/87 scale. All models are handcrafted and excel in their attention to detail and their elegant workmanship. (more…)
PeterH on September 14th, 2005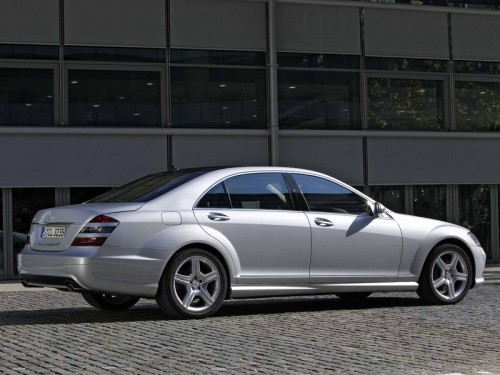 Bodystyling and light-alloy wheels from Mercedes-AMG for the S-Class: Powerful and dynamic AMG outfit for new S-Class
Two optional extras from Mercedes-AMG are now available to give the new Mercedes-Benz S-Class an even more personal touch: AMG bodystyling and AMG light-alloy wheels. The air of poise and self-assurance that surrounds the powerful yet elegant Mercedes flagship model is taken to even greater heights by these AMG components. (more…)
PeterH on August 24th, 2005

Physiological safety: safe and relaxed driving in the new S-Class
Practical scientific testing confirms that the psychophysical stress experienced by drivers travelling long distances in the new Mercedes-Benz S-Class is lower than in other vehicles. The intelligent overall vehicle concept and state-of-the-art technology of these luxury-class saloons reduce driver workload, help to prevent stress and thus have a positive effect on driver fitness. Thus as well as improving personal wellbeing, the first-class comfort and convenience of the new S-Class models also contribute to enhanced road safety. (more…)
Continue reading about Safe and relaxed driving in the new S-Class