S-class
PeterH on August 12th, 2005

The engines in the Mercedes-Benz S-Class: World premiere of a new eight-cylinder unit – V6 and V12 engines with considerably more output and torque.
The engines for the new Mercedes-Benz S-Class are new or further developments which offer up to 26 percent more output and up to 15 percent more torque then the preceding series. Fuel consumption is reduced by up to nine percent. In autumn 2005 a new 5.5-litre eight-cylinder engine developing 285 kW/388 hp will celebrate its world premiere together with the luxury saloon. The range of outputs from the engines in the S-Class will extend from 173 kW/235 hp in the S 320 CDI to 380 kW/517 hp in the twelve-cylinder S 600. (more…)
PeterH on August 11th, 2005
A night of fun with an SL 55 AMG and an E 55 AMG
Click here to start watching
PeterH on August 10th, 2005

World premiere of new support systems for even greater safety and comfort.
Mercedes-Benz has developed and improved well-proven safety systems such as Brake Assist, PRE-SAFE and DISTRONIC even further for the new S-Class.
PeterH on July 24th, 2005

Mercedes-Benz S-Class Looks Back on a Success Story: 220 Series Is Worlds Best-Selling Luxury Sedan
Last 220 Series S-Class rolls off the assembly line at Sindelfingen plant
More than 500,000 luxury sedans sold worldwide since 1998
Pioneering innovations make the S-Class the trendsetter for the entire automotive industry
PeterH on June 26th, 2005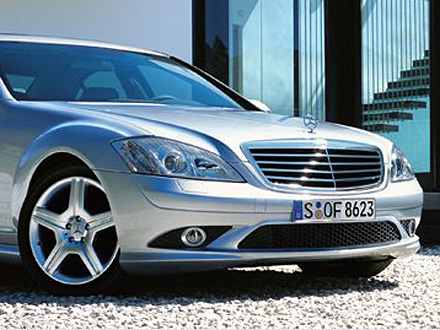 W221 New S-Class


Or Ford Mondeo?
PeterH on June 20th, 2005

Stuttgart – Generation-change at the pinnacle of automotive engineering: Mercedes-Benz presents the new S-Class. The new luxury saloon will be appearing in the showrooms of company-owned outlets and authorised dealerships as of autumn 2005. (more…)
Continue reading about Be ahead: the new Mercedes-Benz S-Class – Superlative in design and technology