S-class
PeterH on September 1st, 2013
The car's breakthrough in France
In 1902 the Paris Motor Show becomes the 'Mercedes Show'
Launch of the S-Class in Paris in 1972
PeterH on August 31st, 2013
Individualisation: personal wish fulfilment for all S-Class generations
designo: character in its most elegant form
The new S-Class: benchmark for individualists
Continue reading about The Mercedes-Benz S-Class – as individual as its customers
PeterH on August 30th, 2013
Grand unveiling of the new flagship model from Mercedes-Benz Hamburg.
This evening, the new flagship for luxurious motoring landed in Hamburg on board an Airbus A300-600 DHL cargo plane. Mercedes-Benz had the new S-Class flown in exclusively from its birthplace in Stuttgart for its world premiere at Airbus in Finkenwerder.
Continue reading about Spectacular world premiere of the new S-Class at Airbus in Hamburg
PeterH on August 27th, 2013
S‑Class: the epitome of automobile comfort
Every generation of vehicles provides ground-breaking solutions to the expectations of customers with regard to comfort
Continue reading about The Mercedes‑Benz S‑Class: automobile comfort of the highest standard
PeterH on August 26th, 2013
Stuttgart/Frankfurt.  The third hybrid model of the new S-Class, the S 500 PLUG-IN HYBRID, sets new benchmarks with regard to efficiency as well as drive-system and climate comfort. With 69 g CO2 per kilometre (3 litres/100 km) the S-Class sets a new benchmark for luxury saloons that just a few years ago was thought virtually impossible.
Continue reading about The S-Class as a "three litres per 100 kilometres" car
PeterH on August 18th, 2013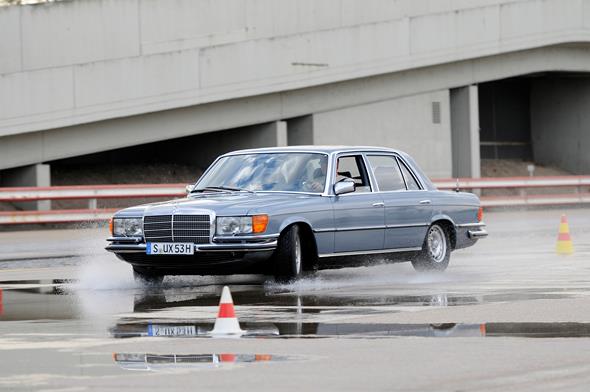 Major innovations in vehicle safety shape the history of the Mercedes-Benz S-Class
Daimler continually sets the standard for the entire vehicle industry with new solutions
Stuttgart – This history of the Mercedes-Benz S-Class is a history of vehicle safety at the highest level. A tradition of outstanding innovations which have debuted in the S-Class have made these premium cars from Stuttgart pioneers for new solutions and a worldwide benchmark in vehicle safety. Thus beyond their own vehicles, Daimler continually establish standards in active, passive and integrated safety for the entire automotive industry.
Continue reading about Mercedes-Benz S-Class – a pace setter and a fine example of vehicle safety