S-class
PeterH on October 19th, 2012
Sindelfingen's S-Class production cut to 1 shift from 2
* Workers reassigned to C-Class assembly until summer 2013
* Roughly 8,000 fewer S-Class cars to be built in Q4
FRANKFURT, Oct 17 (Reuters) – Daimler has cut production shifts from two to one for its luxury Mercedes S-Class saloon car at Sindelfingen, Germany, until the next version of its flagship model is ready to debut in the summer of 2013, due to lower demand.
"Workers manufacturing the S-Class will be reassigned to the C-Class assembly line during this period," the company said on Wednesday, in a sign of the malaise in Europe's car market starting to spread to premium brands.
Roughly 8,000 fewer S-Class cars will be built in the fourth quarter as a result of the agreement with labour. Last year Mercedes sold roughly 69,000 S-Class cars, generally regarded as its most profitable model and a favourite particularly of wealthy Chinese car buyers.
Continue reading about Daimler cuts output of luxury Mercedes S-Class car
PeterH on October 12th, 2012
PeterH on September 3rd, 2012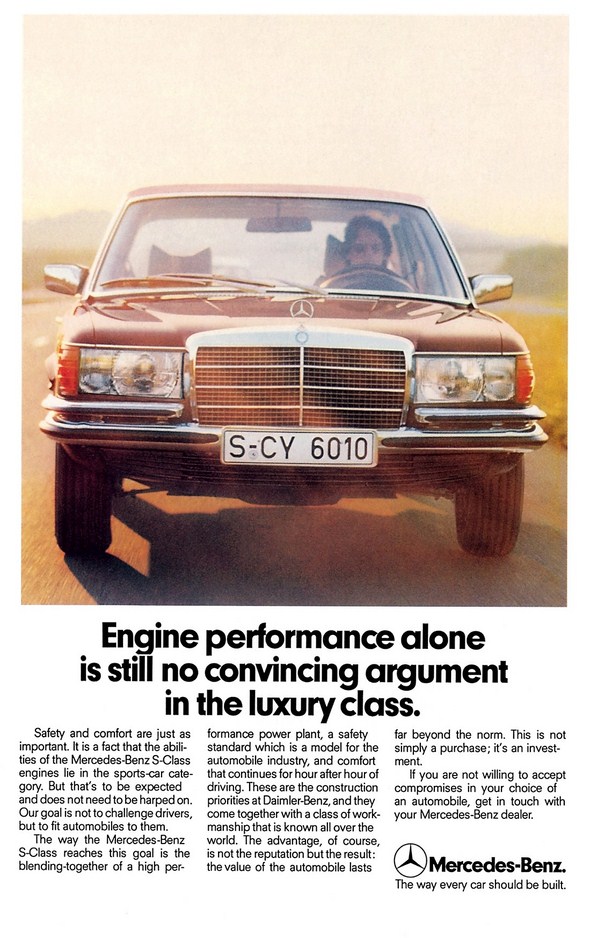 First official use of the S-Class designation
High-end vehicles have always been core products of Mercedes-Benz
Features, safety and comfort on top level
Stuttgart – At the Frankfurt International Motor Show in September 1972, Mercedes-Benz premiered not only a new generation of its flagship luxury-class vehicle but also a new name – the sedans were now officially known as the Mercedes-Benz S-Class. The 'S' abbreviation for top-of-the-line Mercedes-Benz models had been in use since 1949.
Continue reading about 40 years model series 116: luxury class in top form
PeterH on April 15th, 2012
    

Launched 30 years ago on May 15, 1975

    

Second to none: The car's formidable engine

    

Hydropneumatic suspension: For top-notch comfort
Stuttgart. The oil crisis in the early 1970s had deeply shocked the western world, causing, among other things, the launch of a unique model from Mercedes-Benz – the 450 SEL 6.9 (W 116 series) – to be postponed.
Continue reading about Upper nobility: The Mercedes-Benz 450 SEL 6.9
PeterH on March 5th, 2012
The driver gadgets coming on the 2013 Mercedes E-class facelift
There's an awful lot coming:
PeterH on December 29th, 2011
Mercedes-Benz S-Class and M-Class are the most environment-friendly
Stuttgart – The "ÖkoTrend" institute has declared the S 250 CDI BlueEFFICIENCY and the ML 250 BlueTEC 4MATIC to be the most environmentally friendly cars in their class. This is what lay behind the professional journal AUTO TEST's decision to present its Winners in Green" awards to both Mercedes-Benz models.