S-class
PeterH on December 19th, 2011
S 350 BlueTEC now with ECO start/stop function as standard
Stuttgart – With immediate effect, Mercedes-Benz is combining the V6 diesel engine in the S 350 BlueTEC with an ECO start/stop function. As a result, the fuel consumption of the luxury class saloon has been brought down to 6.2 litres per 100 kilometres (NEDC combined). The S 350 BlueTEC is also one of the world's cleanest diesel models.
PeterH on November 10th, 2010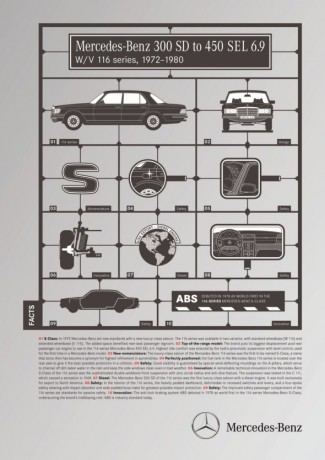 The brand's first luxury class model series to bear the S-Class name
Numerous technical innovations have helped to make it the forerunner
The Mercedes-Benz 450 SEL 6.9 became the top-of-the-range model in 1975

(more…)
Continue reading about Modern Classics: the Mercedes-Benz S-Class of the 116 series (1972 to 1980)
PeterH on November 7th, 2010
The new standard for efficiency
With a total of four new diesel and petrol engines, the Mercedes-Benz S-Class defines the efficiency standard in its segment. The accolade of  "the world's most economical luxury saloon" goes to the new S 250 CDI BlueEFFICIENCY. This high-tech turbodiesel is the first four-cylinder  engine in the almost 60-year success story of the S-Class.
PeterH on August 8th, 2010
Lived for a year with the W220 S500 and have some things to tell you about it.
Enhanced efficiency, safety and luxury
The new S 350 BlueTEC which is now available from Mercedes-Benz is the most efficient and safest S-Class ever. (more…)
Continue reading about New BlueTEC model and active assistance systems for the S-Class
Peak of perfection in automobile manufacture
Widely held view: "The best car in the world"
Bedded in the extraordinary tradition of the brand's luxury-class vehicles

(more…)
Continue reading about Modern classics: the S-Class Saloons of the Mercedes-Benz 140 series (1991 to 1998)