Sl-class
PeterH on October 15th, 2015
Effortlessly superior and stylish performance
Affalterbach – Mercedes-AMG is embarking on the 2012 roadster season in inimitably dynamic style: following on from the recent launch of the SL 63 AMG, the top eight-cylinder model, there now comes the presentation of the new Mercedes-Benz SL 65 AMG, the V12 roadster in the line-up from the Stuttgart-based manufacturer.      (more…)
PeterH on October 9th, 2015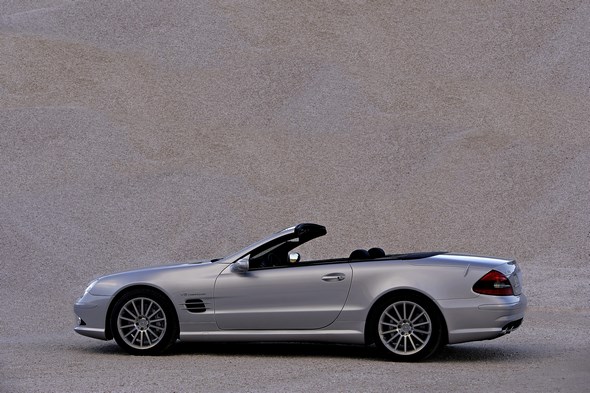 Affalterbach – The SL 55 AMG has now been made even sportier and more exclusive than ever. The exceptional high-performance roadster from AMG has made further substantial advances in terms of technology, design and appointments and now offers an even more unforgettable driving experience.      (more…)
Continue reading about SL 55 AMG: yet more dynamism and attention to detail
PeterH on October 8th, 2015
Start-up with new vigour
Stuttgart – The SL Roadster family from Mercedes-Benz is raring to go with a new engine. The SL 400 is now endowed with a six-cylinder biturbo drive system.
Despite half a litre less displacement the output has risen by 20 kW (27 hp). Plus there are 110 newton metres more torque at its disposal.      (more…)
PeterH on October 6th, 2015
Exclusive SL passion
Stuttgart – Mercedes-Benz celebrates the 60th anniversary of a memorable motor racing success with an extraordinary special model of the SL Roadster.
Its name commemorates the unexpected victory of a 300 SL in the production sports cars class at the 1955 "Mille Miglia", one of the world's most challenging long-distance races.      (more…)
Continue reading about Special Edition SL "Mille Miglia 417"
PeterH on October 5th, 2015

45 years of AMG – Marking the anniversary with high-performance and style
Affalterbach – To mark its 45th birthday in June 2012, Mercedes-Benz's high-performance AMG brand is presenting the SL 65 AMG "45th ANNIVERSARY".      (more…)
Continue reading about The new Mercedes-Benz SL 65 AMG "45th ANNIVERSARY"
PeterH on June 19th, 2014
Numerous innovations, from the automatic roll-over bar to the integral seat
Twelve-cylinder engine made its debut in the SL of the R 129 model series
Official AMG versions of the SL became available for the first time
Continue reading about A technological trailblazer celebrates its 25th anniversary: Mercedes-Benz SL, R 129 model series (1989 to 2001)