Sl-class
PeterH on September 6th, 2012
Frank Knothe
Born on: 24 February 1942 in Dresden
In the course of his career as an engineer, Frank Knothe has worked on numerous Mercedes-Benz passenger-car model series. He directed the development of the SL and SLK model series and also worked on the SLR. He retired in 2006.
Continue reading about The engineer behind the R 230 series of the SL
PeterH on August 29th, 2012
Stuttgart – Before the year is out, Mercedes-Benz will present a completely redeveloped SL Roadster made for the first time almost
entirely from aluminium. The full aluminium bodyshell of this newly developed vehicle weighs around 110 kilograms less than a comparable bodyshell constructed with the technology used for its predecessor.
PeterH on August 25th, 2012
•    Stylistically confident, open-top touring cars – the 107 model series
•    Successful third-generation SL model was produced for more than 18 years, achieving sales of 237,287 Roadsters
Continue reading about Innovation at its best: the Mercedes-Benz SL 107 model series
PeterH on August 24th, 2012
The tradition of exceptional sports cars goes back to 1954
· Always also an innovation champion for the Mercedes-Benz brand
Stuttgart – The Mercedes-Benz SL-Class tradition took its start in the 1950s when the company presented the 190 SL (W 121 series), which it explicitly described as a touring sports car, at the International Motor Sports Show in New York.
Continue reading about The touring sports cars of the SL-Class
PeterH on August 21st, 2012
Effortlessly superior and stylish performance
Affalterbach – Mercedes-AMG is embarking on the 2012 roadster season in inimitably dynamic style: following on from the recent launch of the SL 63 AMG, the top eight-cylinder model, there now comes the presentation of the new Mercedes-Benz SL 65 AMG, the V12 roadster in the line-up from the Stuttgart-based manufacturer.
PeterH on April 21st, 2012
May 1955: Start of production of the Mercedes-Benz 190SL
25,881 units of the elegant roadster produced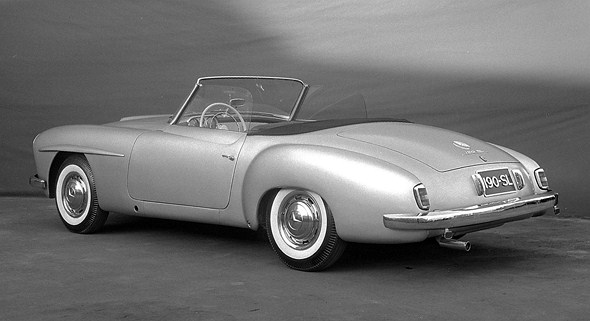 Stuttgart. In time for the summer of 1955, production of the four-cylinder-engined 190SL sports car was begun at the Sindelfingen plant.
Continue reading about Not just for the ladies: the Mercedes-Benz 190 SL