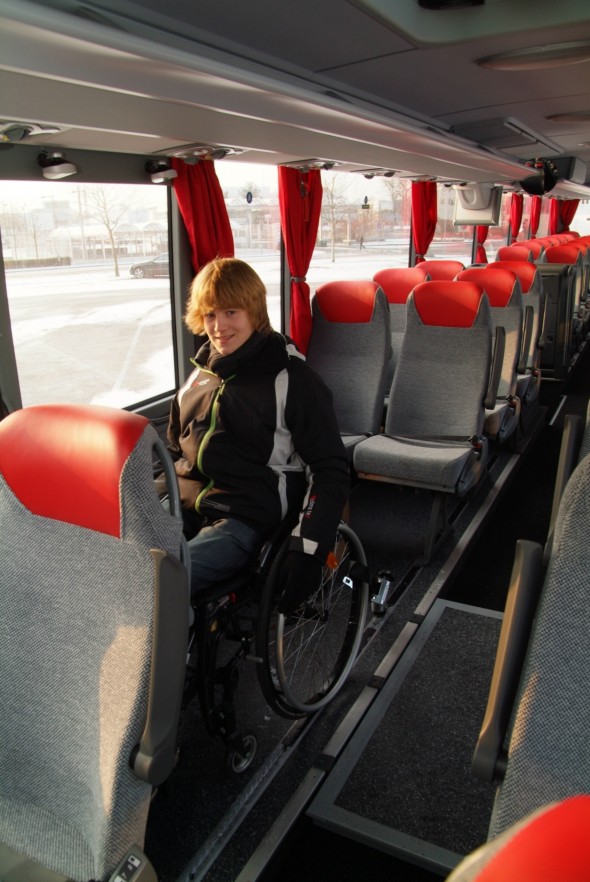 First touring coach with equipment for disabled passengers to be made available ex factory
BEX banks on maximum flexibility and economy
Stuttgart – Bayern Express & P. Kühn Berlin GmbH – BEX for short – has added a Mercedes-Benz Tourismo with equipment for disabled passengers to its fleet. A particular highlight of this touring coach is the fact that the full complement of equipment for disabled passengers is available straight from the factory.
The Mercedes-Benz Tourismo L features 57 + 2 passenger seats plus space for four wheelchairs on board. Wheelchairs are lifted into the coach by an electric lift situated aft of the front axle. Once they are inside the passenger compartment, the wheelchairs are then secured on airline-style rails by means of quick-clamping devices.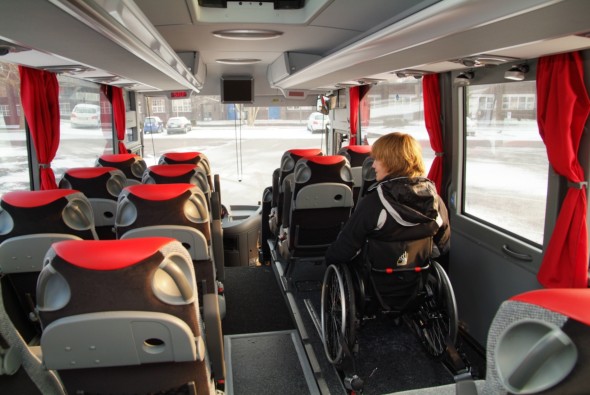 In order to fully optimise vehicle safety, the changes to the frame, which were necessary in the wheelchair lift area, were taken into account in the design. As a result of this, the safety concerns that can arise when existing bus or coach frames are modified ceased to become a factor at all.
The Tourismo with equipment for disabled passengers goes through the normal, standard production process at Mercedes-Benz, the modified design making this possible right from the start of production. As well as ensuring maximum stability and safety, this process means that buses and coaches with equipment for disabled passengers can be produced far more cost-effectively than previously.
For BEX general manager Jörg Schaube, it was precisely these factors that proved decisive when it came to placing an order with Mercedes-Benz: "Safety has been a top priority at our company for a number of years. Not only for our drivers, who are sent to attend safety training courses on a regular basis, but also when it comes to our vehicle fleet, which is equipped with all the available safety features. That's why I am glad to know that our latest vehicle has been produced without compromise right from the start."
And the Tourismo certainly fits the bill: equipped with ESP (Electronic Stability Program), ABS (anti-lock braking system), ASR (acceleration skid control), BA (Brake Assist) and, of course, the continuous braking limiter, the Tourismo is at the top of its class when it comes to safety.
As well as providing the usual high standard of safety, the BEX Tourismo boasts an exclusive, sophisticated, hallmark Mercedes-Benz design as well as the proven quality associated with this brand. The 57 Travel Star Plus seats are equipped with footrests and folding tables, and they feature leather-trimmed head sections. Another highlight is the on-board WC, which can simply be removed from the vehicle whenever required in order to create space for further seats.
In addition to all of this, the 35-kW air conditioning system, which can be controlled independently of the driver's air conditioning, and the convector heaters in the side walls ensure a pleasant on-board temperature at all times. The Tourismo's powerful engine developing 315 kW with BlueTec diesel technology and a downstream SCR catalytic converter meets the requirements of the EU's Euro 5 emission standard.
Now part of DB Stadtverkehr (the division of the German rail network responsible for various commuter services and bus companies), Bayern Express & P. Kühn Berlin GmbH has been successful in the bus and coach rental business for over 50 years. Its fleet, consisting mainly of sophisticated Mercedes-Benz and Setra touring coaches, is one of the newest in the German capital.
The latest vehicles to be added to the BEX line-up, which include the Tourismo L with equipment for disabled passengers, feature the distinctive ICE design of Deutsche Bahn (the German rail network). As well as offering city tours and classic rental options, BEX also operates domestic and international long-distance services under the "BerlinLinienbus" brand name, covering a total of 53 routes together with its partner companies.
Tags: tourismo