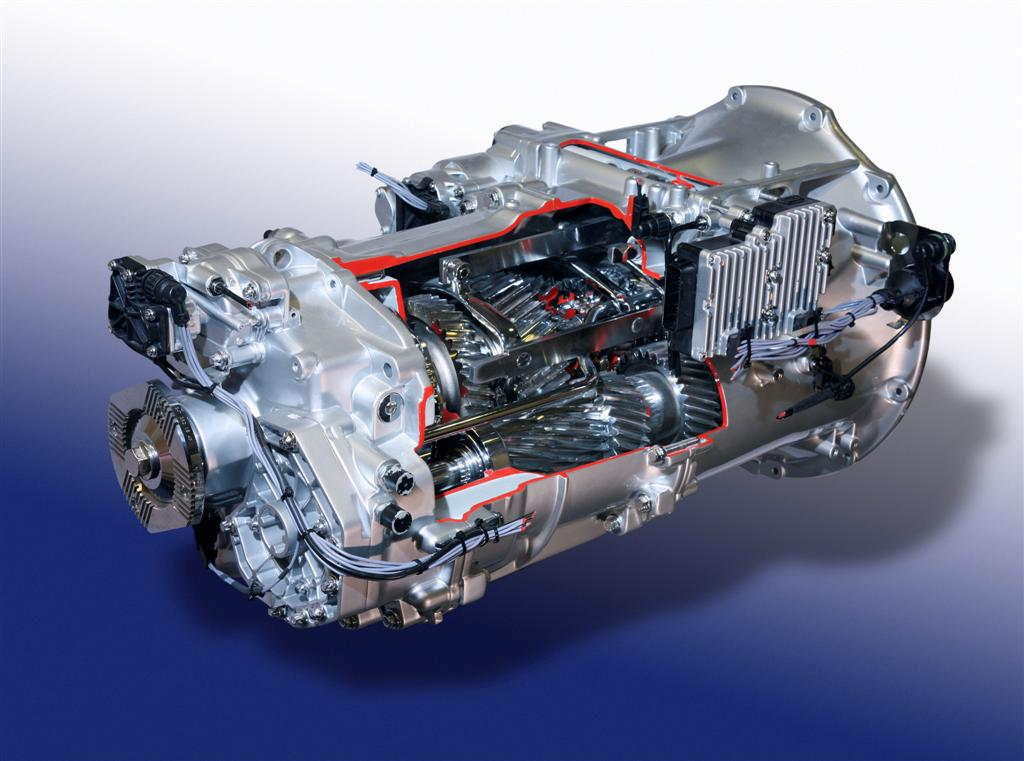 New generation of fully-automated manual transmissions
Purpose-designed range of 12 and 16-speed transmissions
Intelligent control electronics instead of heavy synchroniser assemblies
Additional transmission modes optimise vehicle handling

Stuttgart – DaimlerChrysler is gradually introducing a new generation of automated transmissions for Mercedes-Benz Actros trucks.
"Mercedes Power-Shift" is the collective name for the new, non-synchromesh, fully-automated 12-speed manual transmissions (16 speeds for special-purpose applications), incorporating sophisticated control electronics to deal with the main functions such as changing gear and operating the clutch as well as numerous new control functions.
Concrete advantages include further improved economy (added operator benefit) as well as faster and smoother gear changes (added driver benefit). Advantages for drivers and haulage companies.
Mercedes Power-Shift can help to increase payload and reduce trip fuel consumption. Furthermore, the new transmission and control technology allows smoother yet much faster gear changes than previously and, on top of everything, provides the driver with a range of new, purpose-designed transmission modes.
This means that both haulage companies and their drivers stand to gain from Mercedes Power-Shift. One of the main inherent benefits of automated manual transmissions, first introduced by Mercedes-Benz over 20 years ago, is their ability to ensure improved vehicle availability, since they minimise the risk of operating errors.
Mercedes Power-Shift is the result of the rigorous further development of the multi-stage "Mercedes-Benz powertrain management" philosophy: twelve precisely configured gear ratios for the vast majority of long-distance haulage and short-radius distribution trucks and 16 gear ratios for more demanding on-road applications.
Increasing volume of traffic makes driver stress-relief a priority
The bulk of the new Mercedes Power-Shift family is made up of non-synchromesh 12-speed automated manual transmissions which are suitable for numerous torque categories: 2100, 2800 and up to 3300 newton metres.
The new Power-Shift generation incorporates over 20 years of know-how acquired by Mercedes-Benz in the production of first semi-automated and then fully-automated manual transmissions.
"EPS" in 1985 was followed in 1996 by the standard-fit Telligent gearshift system and the optional Telligent automatic gearshift system.
Knowing full well that the road infrastructure will be unable to cope with the further increasing traffic volume in the foreseeable future, the aim of the commercial vehicle engineers at Mercedes-Benz is to continue introducing dedicated automated functions and easier-to-use systems for trucks whilst also focussing on further enhancing the ease of shifting in conjunction with noticeably faster gear changes.
Taking a medium-term view, Mercedes Power-Shift will go a long way towards ensuring that automated manual transmissions become the production standard and, therefore, the industry standard for commercial vehicles.
Constant-mesh transmissions require intelligent control
Traditional non-synchromesh transmissions are known to be smaller and lighter, as long as there is no need to increase the torque spectrum provided by an equivalent synchromesh transmission.
However, the modern incarnation of the classic constant-mesh design has the same dimensions and weight as a comparable synchromesh transmission yet offers much greater potential in terms of torque.
That said, a great deal of mechanical and control know-how must be incorporated before a constant-mesh transmission is able to play its trump cards.
In terms of operation, Actros drivers using Power-Shift for the first time should not notice anything strikingly different initially. At least not if they have already had the pleasure of using the Telligent automatic gearshift system.
However, even drivers sat behind the wheel of a truck with a fully-automated manual transmission for the first time will discover that handling an Actros with Mercedes Power-Shift is almost unthinkably easy.
Main controls remain the same
Those familiar with the Telligent automatic gearshift system will recognise the two-pedal layout in the footwell. There is no need for a clutch pedal, since the clutch is operated automatically.
Another familiar feature is the joystick-style shift lever to the driver's right (in LHD vehicles), mounted on a fold-up arm to facilitate through-cab access. The selected transmission mode is indicated on the information display situated between the speedometer and the rev counter.
In order to give Actros drivers even greater assistance in an extremely wide range of everyday driving situations, Mercedes PowerShift has been equipped with new functions over and above those provided by the Telligent automatic gearshift system. These are:
EcoRoll
Power mode
Cruise control with flexible hysteresis
Manoeuvring mode
Rock-free mode
Direct shift from 1st to reverse
Four reverse gears
The new functions have their own separate control panel, and their status (on or off) is indicated on the multifunction display.
Tags: 7gtronic, powershift