S-class
PeterH on October 27th, 2017
Sales launch of the dream cars
Stuttgart. With their unmistakable design and materials with superlative value appeal in the interior, the new SClass Coupé and Cabriolet are the embodiment of contemporary luxury.
Continue reading about The new S-Class Coupé and the new S-Class Cabriolet
PeterH on October 21st, 2017
Sales of the luxury saloon commence
In 2016 the Mercedes-Benz SClass was the best-selling luxury saloon worldwide. Now the flagship model has been comprehensively modernised and is confirming its role as a technological trailblazer with new engines and enhanced driving assistance systems.
The performance model from Affalterbach now also boasts a new engine, new transmission, new all-wheel drive system as well as a new exterior and interior design.
PeterH on September 4th, 2016
The "Bertha Benz" S-Class successfully drove autonomously from Mannheim to Pforzheim in 2013.
Now, just three years later, it is being retired to the Museum
The Cabriolet Collection from Mercedes-Benz Cars: Available in all sizes
For Mercedes-Benz, 2016 is the year of the convertible and the roadster. No other manufacturer offers so many and such young convertibles and roadsters as Mercedes-Benz Cars.
The new C-Class Cabriolet – the latest in a long line of dream cars – has just had its world premiere in Geneva. Other signs of spring are the two updated SL and SLC Roadsters.
The latest range of convertible dream cars extends from the smart fortwo cabrio and the C and E-Class Cabriolets to the S-Class Cabriolet.
PeterH on April 27th, 2016
Open-top luxury
The new Cabriolet is the sixth variant of the current S-Class family and the first open-top luxury four-seater from Mercedes-Benz since 1971.
Continue reading about The new Mercedes-Benz S-Class Cabriolet
PeterH on March 22nd, 2016
Luxury and technology: Mercedes-Benz S-Class W 140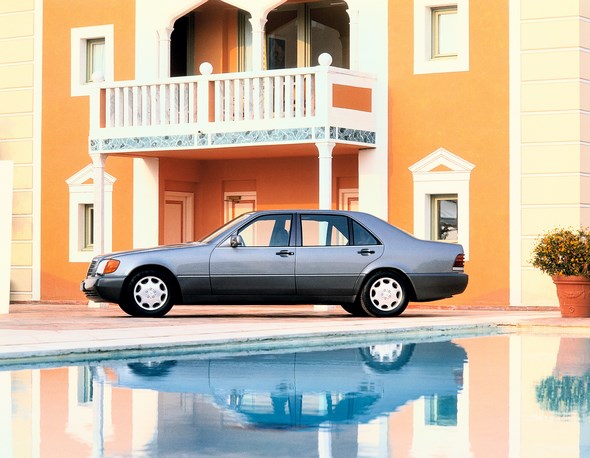 The S-Class model series 140 is a superlative Mercedes-Benz. 25 years ago it was premiered at the 1991 Geneva Motor Show.
Its developers concentrated on maximum comfort, for example through generous dimensions and double glazing for optimised acoustic insulation.
Plus there were numerous systems supporting the driver. In addition it was the brand's first series-production passenger car to be available with a twelve-cylinder engine.
The model series 140 placed itself at the service of a future which is the present today: as early as the 1990s a technology platform tested autonomous driving.      (more…)