A-class
PeterH on July 20th, 2018
Modern luxury redefined

Stuttgart. The interior of the A-Class is a completely new departure, and revolutionises the compact class from the inside with a new feeling of spaciousness. The unique architecture is particularly marked by the avantgarde design of the dashboard. There is much a more generous amount of interior space.
Continue reading about The new A-Class: TecDay Interior Design
PeterH on September 15th, 2017
Ingeniously compact: 20 years of the Mercedes-Benz A-Class
Who dares wins: looking back, that could have been the guiding principle for the development and market launch of the Mercedes-Benz A-Class. In March 1997, the brand unveiled its new pioneering model to a global public at the Geneva Motor Show.
Bearing the internal designation of the W 168 model series, the newcomer attracted a great deal of attention – and, a short time later, a certain amount of criticism too after an A-Class tipped over in the so-called "moose test" conducted by motoring journalists from Sweden.
PeterH on March 31st, 2016
For an even sportier A-Class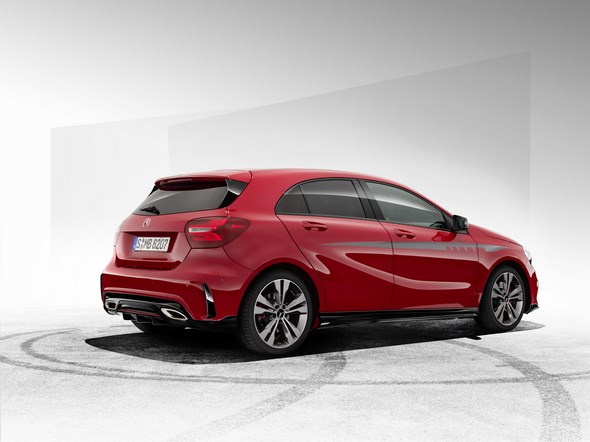 Stuttgart/Affalterbach. Mercedes-AMG is gradually expanding its accessories program: similar to the successful offer for the C-Class, Mercedes-AMG based in Affalterbach, Germany, now offers an exclusive body kit for the A-Class. (more…)
Continue reading about Now available, exclusive AMG body kit for the A-Class
PeterH on September 17th, 2015
As comfortable as never before, as dynamic as always
Stuttgart.  With the new generation of the A-Class, Mercedes-Benz reconciles the conflicting aims of sporty performance and enhanced comfort: With DYNAMIC SELECT the driver is able to change the car's characteristics in just seconds – at the touch of a button the A-Class drives in a particularly comfortable, sporty or efficient manner.
PeterH on September 11th, 2015

The A-Class. Ready for a new generation.
The new A-Class rolls into showrooms on 26 September 2015.  To mark the launch, Mercedes-Benz is starting an extensive marketing and advertising campaign on all communication channels under the title "The A-Class.
Ready for a new generation." The campaign will be centred on various print advertisements and a TV spot. Aimed at a young, modern target group, they will present the vehicle as the perfect companion in everyday life.      (more…)
Continue reading about Mercedes-Benz starts campaign to mark launch of the new A-Class
PeterH on September 9th, 2015
As comfortable as never before, as dynamic as always
Stuttgart.  The new-generation A-Class from Mercedes-Benz reconciles the conflicting aims of sporty performance and enhanced comfort: With DYNAMIC SELECT, the driver is able to change the best-seller's characteristics in a matter of seconds – at the touch of a button the A-Class drives in a particularly comfortable, sporty or efficient manner.    (more…)