C-class
Affalterbach.  Coinciding with the world premiere of the new E-Class Estate from Mercedes-Benz, Mercedes-AMG is presenting the new E 43 4MATIC Estate.
With the powerful 295 kW (401 hp) 3.0-litre V6 biturbo engine, 9G‑TRONIC automatic transmission with shortened shift times, rear-biased AMG Performance 4MATIC all-wheel drive and model-specific suspension, the first performance stage of this all-rounder boasts the AMG brand's hallmark driving performance.
Continue reading about The new Mercedes-AMG E 43 4MATIC Estate
PeterH on June 29th, 2016
Unlimited opening times
Stuttgart.  Mercedes-Benz is launching into the open-air season with the first cabriolet based on the C-Class, thereby rounding off its range of cabriolets with a classic fabric soft top.     (more…)
PeterH on June 27th, 2016
Sales start for the new C‑Class Cabriolet – Open‑air enjoyment on 365 days of the year
Stuttgart. Ready for the summer: The first convertible based on the C‑Class can now be ordered. It represents the attractive entry level into the family of Mercedes‑Benz convertibles, and is to be had from €42,215.25 (price in Germany incl. 19% VAT).      (more…)
PeterH on June 25th, 2016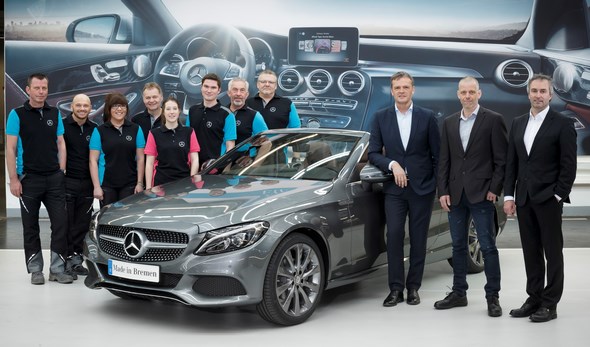 Mercedes-Benz starts production of the C-Class Cabriolet
Mercedes-Benz Cars is systematically expanding its product portfolio and is building the first C-Class Cabriolet.
C-Class Cabriolet is to be produced at the Bremen plant, rounding off the Bremen-made C-Class family, so far including Saloon, Estate and Coupé.
Markus Schäfer, Member of the Divisional Board Mercedes-Benz Cars, Production and Supply Chain Management: "The new C-Class Cabriolet is a fascinating vehicle with emotional appeal. The start of production in Bremen is symbolic of the growth strategy pursued by Mercedes-Benz Cars. Our aim is to offer the right vehicle for every customer."
Bremen plant's production portfolio grows to nine models – the addition of the GLC Coupé this summer will take the total to ten.
PeterH on April 29th, 2016
Open-air performance for the C-Class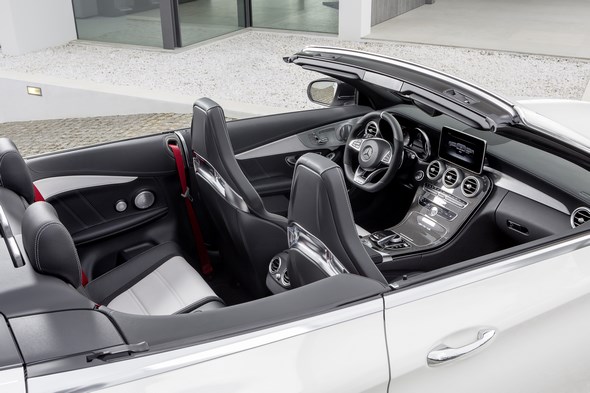 The new C 63 Cabriolet combines an intensive open-air ambience with the AMG V8 engine to create an exhilarating performance experience.
The biturbo engine developed in Affalterbach is available in two output ratings with 350 kW (476 hp) or 375 kW (510 hp) and provides performance on a par with a sports car.
PeterH on March 20th, 2016

New member of the C-Class Performance family
Affalterbach.  Mercedes-AMG has added another sporty model to its C-Class family: the new C 43 4MATIC Coupé.
For the highly dynamic driving experience that is the hallmark of the brand the Affalterbach-based development teams have put together a scintillating engineering package: the 270 kW (367 hp) 3.0-litre V6 twin-turbo engine is combined with the new 9G-TRONIC automatic transmission that provides agile gearshifts.