C-class
PeterH on July 19th, 2018
Start of sales for new C-Class saloon and estate
Stuttgart. The best-seller is progressing to the next level: extensively modified, the new C-Class saloon and estate can be ordered with immediate effect. In terms of looks, the focus of the redesign work was on the front of the vehicle as well as the design of the headlamps and tail lamps.
PeterH on July 11th, 2018
The new C-Class family continues to grow
Additional engines for the new C-Class can now be ordered at the dealers. This makes a total of more than 50 models of the new C-Class family available – 30 saloons and estates as well as 21 coupés and cabriolets.
Continue reading about More than 50 models available in total
Affalterbach.  Coinciding with the world premiere of the new E-Class Estate from Mercedes-Benz, Mercedes-AMG is presenting the new E 43 4MATIC Estate.
With the powerful 295 kW (401 hp) 3.0-litre V6 biturbo engine, 9G‑TRONIC automatic transmission with shortened shift times, rear-biased AMG Performance 4MATIC all-wheel drive and model-specific suspension, the first performance stage of this all-rounder boasts the AMG brand's hallmark driving performance.
Continue reading about The new Mercedes-AMG E 43 4MATIC Estate
PeterH on June 29th, 2016
Unlimited opening times
Stuttgart.  Mercedes-Benz is launching into the open-air season with the first cabriolet based on the C-Class, thereby rounding off its range of cabriolets with a classic fabric soft top.     (more…)
PeterH on June 27th, 2016
Sales start for the new C‑Class Cabriolet – Open‑air enjoyment on 365 days of the year
Stuttgart. Ready for the summer: The first convertible based on the C‑Class can now be ordered. It represents the attractive entry level into the family of Mercedes‑Benz convertibles, and is to be had from €42,215.25 (price in Germany incl. 19% VAT).      (more…)
PeterH on June 25th, 2016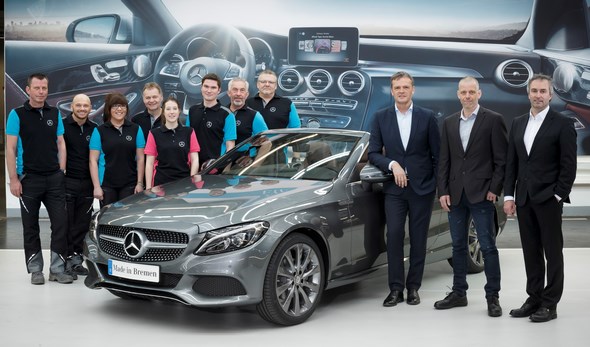 Mercedes-Benz starts production of the C-Class Cabriolet
Mercedes-Benz Cars is systematically expanding its product portfolio and is building the first C-Class Cabriolet.
C-Class Cabriolet is to be produced at the Bremen plant, rounding off the Bremen-made C-Class family, so far including Saloon, Estate and Coupé.
Markus Schäfer, Member of the Divisional Board Mercedes-Benz Cars, Production and Supply Chain Management: "The new C-Class Cabriolet is a fascinating vehicle with emotional appeal. The start of production in Bremen is symbolic of the growth strategy pursued by Mercedes-Benz Cars. Our aim is to offer the right vehicle for every customer."
Bremen plant's production portfolio grows to nine models – the addition of the GLC Coupé this summer will take the total to ten.