NEWS
PeterH on September 28th, 2016
Open-top driving performance as a twin pack
Affalterbach.  Mercedes-AMG is blowing even more fresh air into the AMG GT family. Shortly after the world premiere of the AMG GT R, the sports car and performance brand from Affalterbach is presenting two exciting roadster variants of the two-seater sports car.
Continue reading about The new Mercedes-AMG GT Roadster and Mercedes-AMG GT C Roadster
PeterH on September 25th, 2016

High-end automotive luxury class now as a special protection vehicle
Stuttgart/Brussels.  The absolute flagship model from Mercedes-Maybach with face-to-face seating configuration behind the glass partition is now also available to order as a Mercedes-Maybach S 600 Pullman Guard.
As a result, heads of state and other individuals at particular risk have a highly exclusive vehicle at their disposal. The first customer vehicles will be delivered in the second half of 2017.      (more…)
Continue reading about The new Mercedes-Maybach S 600 Pullman Guard
PeterH on September 24th, 2016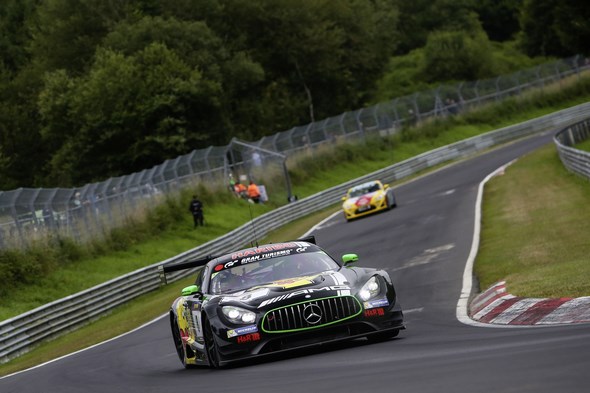 HARIBO Racing Team-AMG #8 wins sixth round of the VLN endurance racing championship       (more…)
Continue reading about Victory for Mercedes-AMG at the Nürburgring-Nordschleife
PeterH on September 23rd, 2016

Versatility and intelligence in a striking outfit
Stuttgart.  From unpaved tracks to rock climbing or steep serpentine roads to a snow-bound ski lodge – the new E‑Class All‑Terrain takes routes where conventional estates often have to give up effortlessly in its stride thanks to greater ground clearance with large wheels and 4MATIC all-wheel drive as a standard feature.
And it also cuts a fine figure thanks to its striking look with powerful flared wheel arches and SUV radiator grille. The E‑Class All‑Terrain will celebrate its world premiere at the Paris Motor Show 2016. The market launch will follow in the spring of 2017.    (more…)
Continue reading about New Mercedes-Benz E-Class All-Terrain
PeterH on September 23rd, 2016
Mercedes-Benz delivered more than 156,000 vehicles to customers in August – an increase of 11.8%. The main contribution towards this increase came from the strong rise in unit sales of SUVs of approximately 40%.
Mercedes-Benz was able to surpass its strongest August to date in the previous year due to double-digit growth in the Asia-Pacific region and in the domestic market.     (more…)
Continue reading about Mercedes-Benz delivers its four-millionth SUV in the strongest-selling August
PeterH on September 8th, 2016

Olympic gold medallist Lars Riedel lines up for Saxony Classic 2016 rally in Mercedes-Benz 500 SL
The Saxony Classic rally (18 to 20 August 2016) aptly describes itself as Saxony's longest car museum.
Around 200 classic vehicles are registered to take part this year, and will be seen on some of the state's stunning roads and on the Sachsenring.     (more…)
Continue reading about Picture book setting and idyllic routes