NEWS
PeterH on March 3rd, 2017

Dynamism meets space and intelligence
Affalterbach. In the new E 63 4MATIC+* Estate and E 63 S 4MATIC+* Estate, MercedesAMG combines the brand's hallmark Driving Performance with high utility value and the intelligence of the EClass.
As in the Saloon, the 4.0litre V8 biturbo engine with an output of up to 450 kW (612 hp) and the fully variable AMG Performance 4MATIC+ all-wheel drive deliver outstanding driving dynamics.
Continue reading about The new Mercedes-AMG E 63 4MATIC+ Estate and E 63 S 4MATIC+ Estate
PeterH on March 1st, 2017

Celebrating 50 years of Mercedes-AMG success
Affalterbach. AMG – these three letters stand worldwide for supreme automotive performance, exclusivity, efficiency and highly dynamic driving pleasure.
In 2017, the company founded by Hans-Werner Aufrecht and Erhard Melcher is celebrating its 50th anniversary. In the course of this half-century, Mercedes-AMG has recorded numerous successes in motor sport and through the development of unique road-going vehicles, thereby repeatedly underlining its position as a highly successful sports car and performance brand – and today this is truer than ever. (more…)
Continue reading about Half a century of Driving Performance
PeterH on February 27th, 2017

Market launch of the multitalented vehicle
Stuttgart. As the most versatile E-Class variant ever made, the All-Terrain model combines a striking SUV-style look with the intelligent space concept of the Estate, along with many innovative safety features plus a multi-award winning interior.
Continue reading about Available for ordering now: E-Class All-Terrain
PeterH on February 25th, 2017
Stuttgart. From unpaved tracks to rock climbing or steep serpentine roads to a snow-bound ski lodge – the new E-Class All-Terrain takes routes where conventional estates often have to give up effortlessly in its stride thanks to greater ground clearance with large wheels and 4MATIC all-wheel drive as a standard feature. (more…)
Continue reading about New Mercedes-Benz E-Class All-Terrain
PeterH on February 5th, 2017

The ultimate in open-air exclusivity
Stuttgart. The first cabriolet from the MercedesMaybach brand is celebrating its debut at the Los Angeles Auto Show and is all set to hit markets in the spring of 2017 – limited to 300 examples and with a net price tag of 300,000 euros.
The high-end appointments in the interior make up part of the vehicle's special characteristics. Unique features include nine additional colour concepts for the interior, the trim – optionally refined with "flowing lines" – plus the hand-finished craftsmanship of the leather seats with perforations in a waterfall-style look. The drive system requirements are catered for by the 6.0litre V12 engine with an output of 463 kW (630 hp). (more…)
Continue reading about A limited edition of 300: the new Mercedes-Maybach S 650 Cabriolet
PeterH on January 29th, 2017
First stage of AMG Performance for the E-Class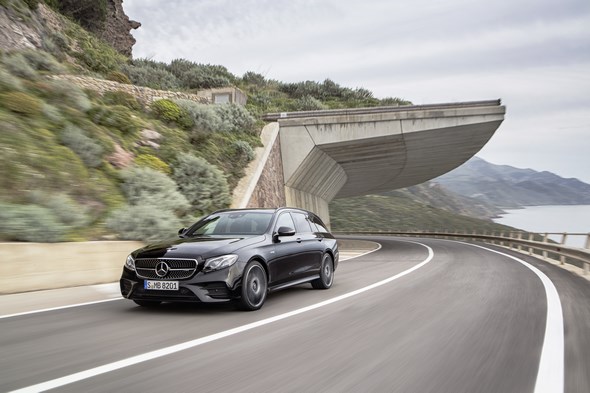 Mercedes-AMG presents the new members of the current E-Class family, the E 43 4MATIC Saloon and Estate models. They deliver the brand's hallmark Driving Performance with discrete technology, combined with a distinctive design and high everyday practicality.      (more…)
Continue reading about Mercedes-AMG E 43 4MATIC Saloon and Estate