NEWS
PeterH on April 7th, 2017
Carbon footprint reduced by over 40 percent
Stuttgart. The Mercedes-Benz E 350 e has successfully completed the TÜV validation audit and received the Environmental Certificate. This award is based on a Life Cycle Assessment in which the independent experts at TÜV Süd (the German Technical Inspection Authority) comprehensively assess the environmental impact of the passenger car over its entire life cycle.
PeterH on April 6th, 2017
Premiere in March 1977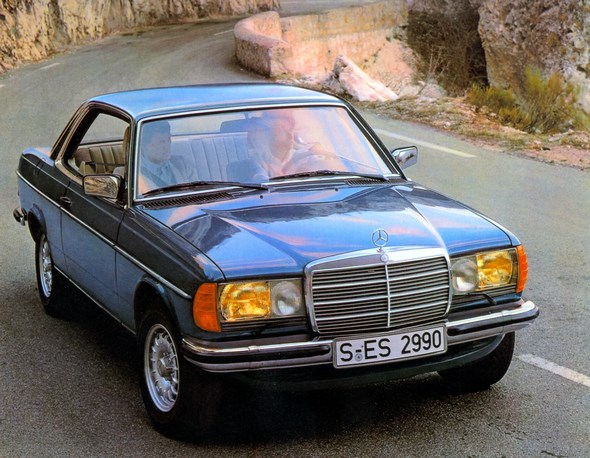 The cutting-edge technology and elegance so characteristic of Mercedes-Benz have always been expressed in a very special way in coupés. The three 230 C, 280 C and 280 CE models, presented by Mercedes-Benz 40 years ago in March 1977 at the Geneva Motor Show, linked into this tradition.
Today the model series C 123 is embedded in the history of the E-Class Coupés. The latest example of this is the model unveiled in January 2017 at the Detroit Motor Show, the new E-Class Coupé: It interprets its history in a highly contemporary fashion and with special sporty elegance.
Continue reading about "Optical individuality and visible verve": The Mercedes-Benz coupés of model series C 123
PeterH on April 5th, 2017
Mercedes-Benz delivered 178,467 vehicles worldwide last month (+18.3%), more than ever before in a January
Over 30% growth in the Asia-Pacific region
Ongoing success in China: with nearly 59.000 cars sold in January and a plus of roughly 40%, the previous best month was surpassed by over 12,000 units
Unit sales of the E-Class Saloon and Estate increased by nearly 75%
Continue reading about Mercedes-Benz starts the new year with more than 18% growth and a new sales record
PeterH on April 4th, 2017
Stylish and sporty
Stuttgart. With its expressive coupé-esque proportions, clear and sensual design and long-distance comfort for four people, the new EClass Coupé combines the beauty and classic virtues of a grand tourer with state-of-the-art technology.
It also offers the intelligence of the EClass family with full smartphone integration, Widescreen Cockpit and the latest driver assistance systems with the option of, among other things, partially automated driving.
Powerful engines with low exhaust emissions and comfortable suspensions with selective damping provide the guarantee of a sporty and agile driving experience.
PeterH on April 3rd, 2017

Three new members of the AMG GT family go on sale
Stuttgart/Affalterbach. Three new members of the AMG GT family are available to order now. The AMG GT and GT C* Roadsters as well as the extremely sporty AMG GT R** will be launched on the market in spring 2017. (more…)
Continue reading about New GT models from AMG available to order now
PeterH on April 2nd, 2017

More powerful, more economical and cleaner
Stuttgart/Sindelfingen. The biggest strategic engine initiative in the history of Mercedes-Benz will enter its decisive phase in 2017.
Following the launch of the new four-cylinder diesel engine in spring 2016, next year will see the addition of no fewer than four more members to the all-new family of engines: six-cylinder in-line engines in both diesel and petrol versions, a new four-cylinder petrol engine and a new biturbo V8. (more…)
Continue reading about Extensive strategic engine initiative from Mercedes-Benz