NEWS
PeterH on April 28th, 2016
Fresh styling for the style rebel
Stuttgart.  Their sporty proportions and powerful, dynamic design idiom characterised by sensuously rounded contours make the CLA Coupé and CLA Shooting Brake quite unmistakable.
In undertaking the facelift modifications, the Mercedes-Benz designers have subtly honed the distinctive look of both models and upgraded the interior.
Continue reading about Available to order now: Mercedes-Benz CLA Coupé and Shooting Brake
PeterH on April 27th, 2016
Open-top luxury
The new Cabriolet is the sixth variant of the current S-Class family and the first open-top luxury four-seater from Mercedes-Benz since 1971.
Continue reading about The new Mercedes-Benz S-Class Cabriolet
PeterH on March 31st, 2016
For an even sportier A-Class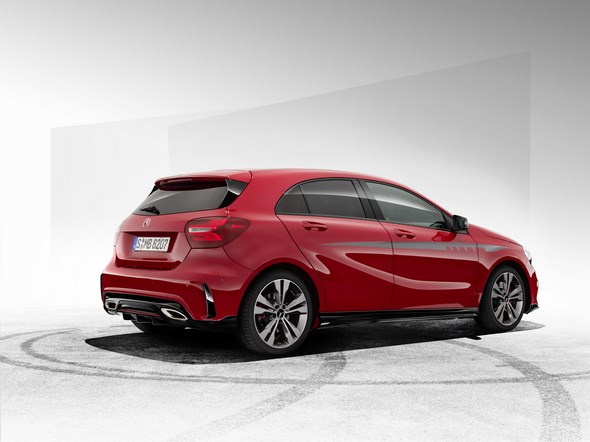 Stuttgart/Affalterbach. Mercedes-AMG is gradually expanding its accessories program: similar to the successful offer for the C-Class, Mercedes-AMG based in Affalterbach, Germany, now offers an exclusive body kit for the A-Class. (more…)
Continue reading about Now available, exclusive AMG body kit for the A-Class
PeterH on March 28th, 2016
Open for sporty and exclusive refinement
Elegant cabriolets and sporty roadsters are among the highlights of Mercedes-Benz's model history. At the Salon Rétromobile in Paris, Mercedes-Benz Classic is shining the spotlight on this tradition combining design, sportiness and comfort.
The vehicle exhibits range from the luxurious 300 S from 1956 and the 280 SE 3.5 Cabriolet from 1969 to two SL sports-car classics in the shape of the 300 SL Roadster from 1959 and the 280 SL from 1968 to the new S-Class Cabriolet (A 217) and the new SL (R 231).     (more…)
Continue reading about Mercedes-Benz Classic at the Salon Rétromobile 2016
PeterH on March 27th, 2016
 
Mercedes-Benz sponsoring Mille Miglia 2016
The Mille Miglia 2016 will take place from 19 to 22 May 2016. Mercedes-Benz is supporting the prestigious and famous road race across Italy as Automotive Sponsor.
The brand itself is fielding numerous vehicles from its own collection in the 1,000-mile race, including the Mercedes-Benz SS, SSK and 300 SL models.      (more…)
PeterH on March 25th, 2016

More economical and powerful, more lightweight and compact
Stuttgart.  The new four-cylinder diesel unit OM 654 marks the debut of a ground-breaking family of engines from Mercedes-Benz.
Exemplary efficiency and emissions ensure that the premium diesel is future-proof while underlining the key role to be played by the diesel engine in achieving the challenging global climate targets.
The first all-aluminium four-cylinder diesel engine from Mercedes-Benz celebrates its world premiere in the new E-Class E 220 d in spring 2016.      (more…)
Continue reading about The diesel future begins in the Mercedes-Benz E-Class