NEWS
PeterH on March 24th, 2016
Ola Källenius, Member of the Board of Management, Mercedes-Benz Cars Marketing & Sales: "We continued the positive development of record year 2015 in January, and started the new year successfully."
Mercedes-Benz started the year 2016 with record unit sales. In January, 150,814 vehicles with the three-pointed star were handed over to customers – an increase of 19.9%.      (more…)
Continue reading about Mercedes-Benz starts the year 2016 with double-digit growth
PeterH on March 22nd, 2016
Luxury and technology: Mercedes-Benz S-Class W 140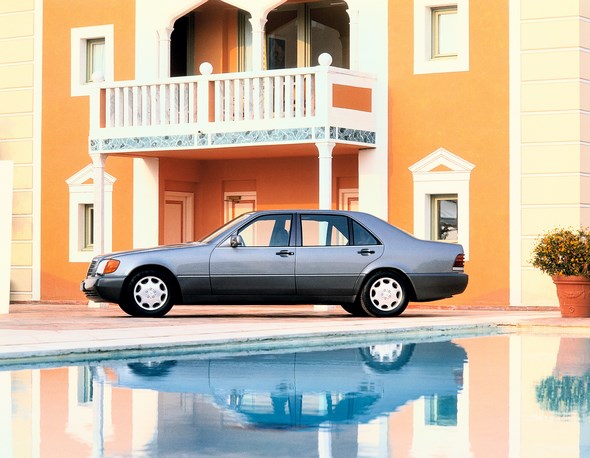 The S-Class model series 140 is a superlative Mercedes-Benz. 25 years ago it was premiered at the 1991 Geneva Motor Show.
Its developers concentrated on maximum comfort, for example through generous dimensions and double glazing for optimised acoustic insulation.
Plus there were numerous systems supporting the driver. In addition it was the brand's first series-production passenger car to be available with a twelve-cylinder engine.
The model series 140 placed itself at the service of a future which is the present today: as early as the 1990s a technology platform tested autonomous driving.      (more…)
PeterH on March 20th, 2016

New member of the C-Class Performance family
Affalterbach.  Mercedes-AMG has added another sporty model to its C-Class family: the new C 43 4MATIC Coupé.
For the highly dynamic driving experience that is the hallmark of the brand the Affalterbach-based development teams have put together a scintillating engineering package: the 270 kW (367 hp) 3.0-litre V6 twin-turbo engine is combined with the new 9G-TRONIC automatic transmission that provides agile gearshifts.
PeterH on March 19th, 2016
Mercedes-Benz handed over 133,752 vehicles to customers in February, more than ever before in the second month of a year (+11.2%).
Record unit sales were achieved in Europe, Asia-Pacific and the NAFTA region.      (more…)
Continue reading about Mercedes-Benz achieves record unit sales for SUVs and compact cars in February
PeterH on March 17th, 2016
Unlimited opening times
Stuttgart.  Mercedes-Benz is launching into the open-air season with the first cabriolet based on the C-Class, thereby rounding off its range of cabriolets with a classic fabric soft top.
The new cabriolet's design interprets modern luxury with a youthful touch. Featuring plenty of high-quality details, its distinctive character is most apparent when the top is down.
The cabriolet is optionally available with the AIRCAP automatic draught stop system and AIRSCARF neck-level heating – for exceptional comfort during open-top driving 365 days a year.      (more…)
PeterH on March 14th, 2016

First high-performance variant of the new E-Class
Affalterbach.  Hot on the heels of the world premiere for the new Mercedes‑Benz E-Class, its first high-performance variant is on the way from Mercedes-AMG.
The E 43 4MATIC with the 3.0-litre V6 biturbo engine on board will represent the most powerful variant of the executive saloon when it is introduced in September 2016.     (more…)