designo and Mercedes-AMG Manufaktur: Cars with an additional personal touch
Two personalisation programmes for your custom-made Mercedes
Exclusive fabrication, from the A-class to the CL
Special colours, exclusive leather, wood and carbon

For anyone wishing to give their Mercedes that extra personal touch, Merce­des-AMG GmbH has just the answers.
The new DaimlerChrysler subsidiary offers the combined experience of Mercedes-Benz and AMG in the field of high-quality enhancements for Mercedes passenger cars.
Two alternative programmes will be available in the future:
The factory-fitted designo programme allows Mercedes-Benz customers to mould their car to their own personal tastes with the aid of a select palette of exclusive leathers, paints and trim.
Customers' choice of designo features are assembly-line integrated at the DaimlerChrysler factories, but DaimlerChrysler AG has turned over the marketing-related planning and realisation to Mercedes-AMG GmbH.
Mercedes-AMG Manufaktur, the company's hand-crafting centre takes the process a stage further still.
Even the most out-of-the-ordinary requests are catered for.
Mercedes-AMG Manufaktur can also carry out conversions involving modifications to the engineering and body. In this way some quite exotic versions can be created.
At the special designo consulting centres, Mercedes customers can learn more about the extensive range of personalised fittings available.
The advice also extends to the more unusual requests, which can only be fulfilled by Mercedes-AMG Manufaktur.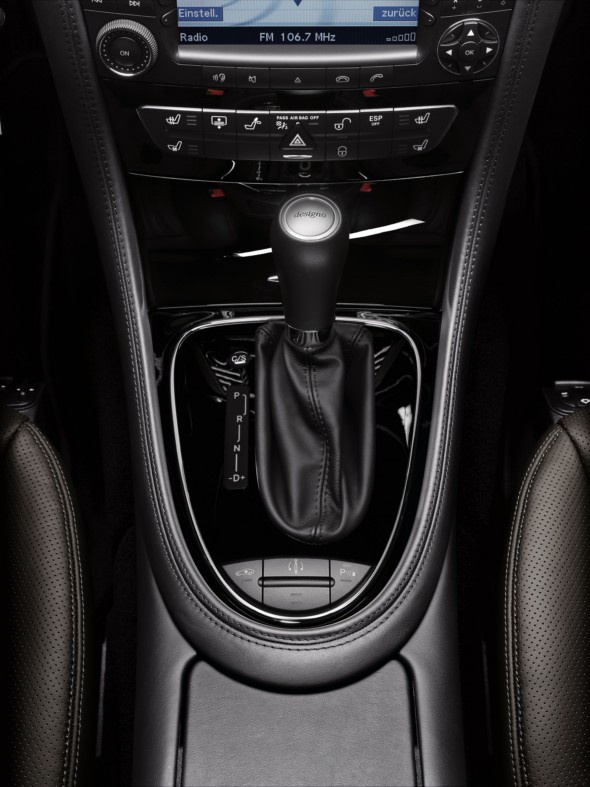 designo: factory-built exclusiveness
The designo programme, which is available for the Mercedes A-, C-, E-, G- and S-classes, as well as for the SL, SLK, CLK and CL, offers virtually unlimited combinations, with a large range of select materials for exterior and interior.
[adsense]
Unusual designo paints and specially textured, richly coloured designo leather and designo trim parts are available, in a variety of different materials and colours depending on the different model series.
Mercedes-Benz quality is a matter of course for all items in the designo range. The full grain designo leather is even softer to the touch than the normal excellent-quality Mercedes-Benz leather.
A choice of up to 16 rich shades are available, with double-stitched seams in colours which vary depending on the model.
For the new S-class, designo aniline leather is available. This material is distinguished by its particular softness to the touch and excellent comfort as a seating material.
When it comes to interior trim, too, Mercedes customers are given virtually unlimited creative scope.
Fine wood veneer in a range of grains and colours provides a truly sensuous experience.
The unique and refined veneers are elaborately crafted from native woods. Anyone preferring a more avantgarde interior can choose leather cockpit trim in the SLK.
Sporty highlights can be provided by genuine carbon trim parts, of which a variety of coloured versions are available for the SL roadster.
At the designo consulting centres, customised vehicles are on display, as well as a range of specimen materials.
Customers' questions can also be answered by the branches and dealerships of the Mercedes-Benz brand.
Mercedes-AMG Manufaktur: almost anything is possible
Mercedes-AMG Manufaktur goes even further in catering for a unique personal style.
It offers a choice of interior designs through to a fully equipped interior with leather trim for features such as the rear-view mirror and instrument panel.
Electrically-operated curtains for the rear windscreen and rear side windows, electrically operated leather-trimmed folding tables with wood or carbon inlay matched to the design of the interior, telephone consoles in va­rious combinations of materials, refrigerated cabinets and bars
and special consoles and solutions for integrating mobile phones, monitors, video systems and notebooks can also be provided on request, along with customised hi-fi systems, mobile communication (telephone, fax, data transmission) or naviga­tion systems.
Also available are sports steering wheels, wood/leather steering wheels, shift levers in a variety of designs, luxurious carpeting and AMG-badged door sill plates, with or without illumination and optionally decorated with an engraving of the customer's choice.
[adsense]
Mercedes-AMG Manufaktur also provides customisation of the exterior, including body conversions. Almost anything is possible.
Time-honoured traditions of craftsmanship are used to build unique vehicles one at a time.
The same stringent quality and safety standards as for other Mercedes-Benz vehicles are applied.
AMG PERFORMANCE STUDIO and designo reflect the owner's personal style
Optional extras from the AMG PERFORMANCE STUDIO and from designo – two bywords for exclusive style, superb individuality and uncompromising sportiness.
Customers with their very own style can choose from a wide range of exclusive equipment and appointments for the S-Class AMG models.
The AMG PERFORMANCE STUDIO, which opened its doors in Affalterbach in 2006, aims to meet even the most discerning customer requirements – take for instance the newly developed AMG trim elements in black piano lacquer/carbon fibre available ex factory for the S-Class AMG model.
While the dashboard and the door trim are adorned with dazzling, black wood trim, both the front centre console and the folding rear armrest are trimmed in genuine carbon fibre.
The high-grade material mix lends the interior of the S 63 AMG and S 65 AMG a definite dynamic touch as an option – and subtly alludes to AMG's eminently successful motorsport heritage.

20-inch AMG forged wheels painted in titanium grey with a mirror finish are also available for the S 63 AMG.
The eye-catching twin-spoke wheels are shod with 255/35 R 20 (front) and 275/30 R 20 (rear) tyres.
New designo line-up with designo Selection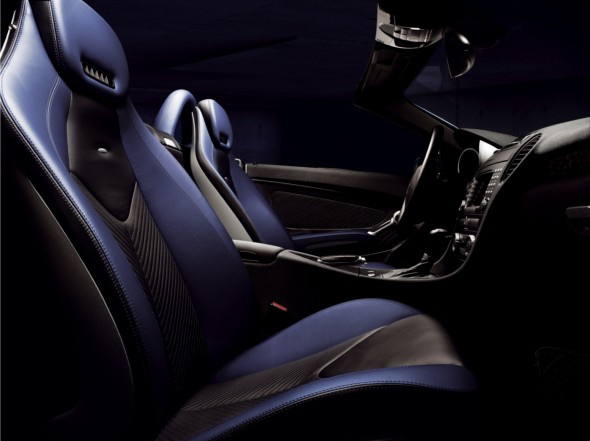 The entire designo range is available to provide further individualisation options for the S 63 AMG and S 65 AMG.
Ten different designo paint finishes can be combined with ten designo aniline leather appointments options and four natural leather appointments variations – with the result that there are practically unlimited possibilities for customers to turn their personal preferences into reality.
Particular highlights come courtesy of the three new matt paint finishes designo magno platinum, designo magno allanite grey, designo magno cashmere white or the new high-sheen designo mystic brown paintwork, not to mention the designo aniline leather in deep white.
The equally new designo aniline leather  colours deep white, deep black and light brown provide customers with even more individualisation options.
When it comes to designo the customer can choose from six different exclusive trim options: natural maple grain and matt natural oak grain as well as two high-sheen piano lacquer trim options in black or champagne white.
The unique designo stone trim elements made from genuine granite are available in two versions for the S-Class: Labrador blue pearl and black Star Galaxy.
To highlight the exclusivity of the designo trim elements, customers can adorn the rear air conditioning unit cover with handmade designo lettering in 925 sterling silver.
[adsense]
Mercedes-Benz is offering for the first time a high-end equipment package for the S 63 AMG with a long wheelbase and the S 65 AMG – all in the shape of designo Selection.
Customers are able to configure their S-Class according to their personal preferences and taste from all the designo paint finishes, designo leather colours and designo wood trim options.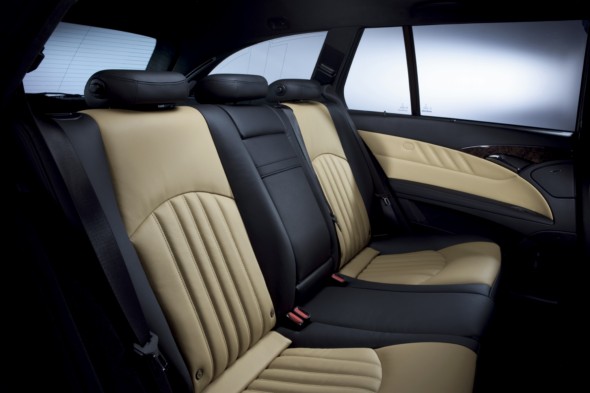 Other components of the package include a black roof liner in nappa leather with special fluting, a matching designo wood/leather steering wheel and designo lettering in solid 18-carat gold – available for the first time and exclusively for the designo Selection – on the rear air conditioning unit cover.
Ten years of designo: Unparalleled variety and exclusivity for discerning tastes
New S‑Class with special designo interior fittings packages
Paints, leather appointments and trim for almost all Mercedes models
Special care exercised in material selection and finish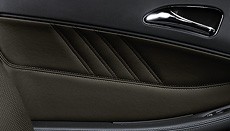 For ten years, the designo range of products has been available for Mercedes customers with particularly demanding tastes.
This range of products for individualizing automotive interiors was first unveiled at the International Motor Show in Frankfurt/Main in 1995.
For the ten-year anniversary, Mercedes-Benz will present two designo interior furnishing packages (available in spring 2006) for the new S‑Class at the 61st IAA 2005.
The packages allow owners to upgrade the new Mercedes flagship model with specially coordinated and matched components consisting of designo leather fittings and design trim elements.
The S‑Class with designo Edition I features a striking, contrast-rich composition: The exceptionally soft, yellow pastel designo aniline leather on the seats and armrests combined with the shining piano black trim and the Alcantara anthracite roof lining strikes a very distinctive note against the generally black backdrop of the interior appointments.
The designo Edition II immerses the passengers in a well-developed lounge atmosphere. It consists of a classic combination of designo aniline leather in an armagnac colour, precious trim elements in designo natural grained maple, and the Alcantara roof lining in anthracite.
The seats of both designo Edition furnishing packages have a characteristic appearance that entails ten-fold longitudinal piping, double-topstiched seams and metal designo badges in the front and rear backrests.
Included as well are black velour floor mats with a black designo leather border and designo metal plates.
Both designo furnishing packages are available for all the models of the new S‑Class (except the S 600), whether short- or long-wheelbase versions.
In addition, designo gives customers the option of creating their very own S‑Class using a broad palette of paint schemes, leather colours and trim elements.
The range of possibilities is suggested by the flagship V12 model S 600, which will be unveiled for the first time at the IAA.
Thanks to the combination of paint in designo mocha black, designo aniline leather exclusively in the designo sand colour tone and fine wood trims in designo natural grained maple, customers will have more than enough possibilities to equip their new S‑Class to meet their individual tastes.
The designo range will be offered for all Mercedes-Benz passenger car models (exceptions: M‑Class as of mid-2006; R‑Class from spring 2007) and provides endless combination options.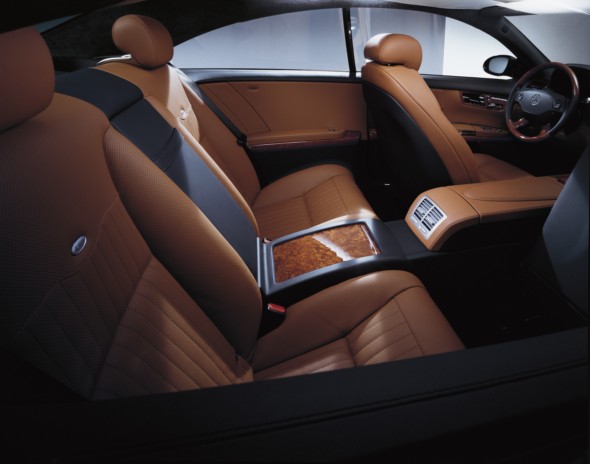 There are numerous possibilities for combining the 13 extraordinary designo paint finishes, the ultra-soft designo leather in 25 exclusive colours, and the 18 designo trim variants in four different materials — fine wood, piano lacquer, stone and leather-covered.
[adsense]
This means that customers can equip their cars to suit their individual tastes, which is appropriate to the designo slogan: "designo. Your customised Mercedes".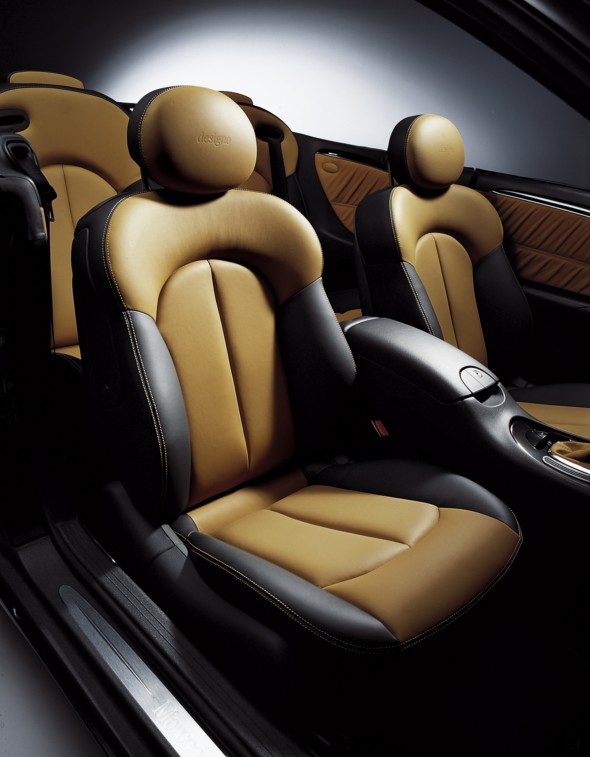 In addition to the new S‑Class, the harmonised designo Edition furnishing packages will also be offered for other models in future.
designo varicolour paint: fascinating effects of changing colours
The exclusive designo varicolour paint gives the Mercedes models an extra special touch.
The finest metal glimmer in the individual layers of paint creates fascinating effects of changing colours, depending on the incidence of light and viewing angle.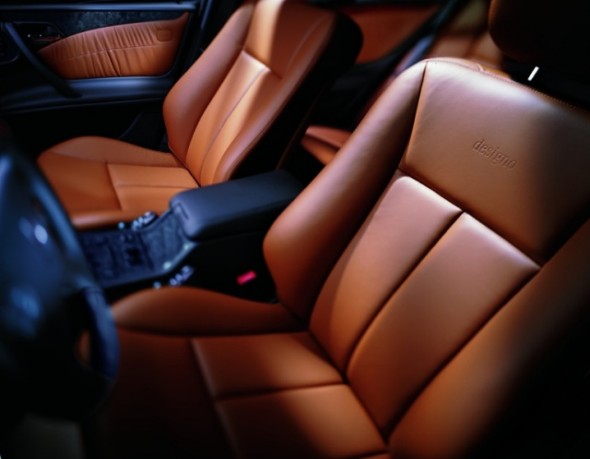 Two different colour tones are available. The other designo colours also give the vehicles an exquisite finish.
The interior is also eye-catching. Not only are the one or two-tone designo seats covered with extremely high-quality leather, but they also have a special design (depending on the model):
The distinctive seat design consists of colour-coordinated seam lines, a matte, chrome-plated designo metal plaque on the backrest or designo lettering on the headrest.
The feel, form and smell of this special interior covered in fully grained, high-quality cow's leather meet the highest standards and give drivers the feeling that they are driving a very special vehicle.
In addition to the designo leather fittings, the A‑Class, B‑Class and SLK‑Class can also be fitted with designo leather/Alcantara upholstery in one or two tones, depending on the model.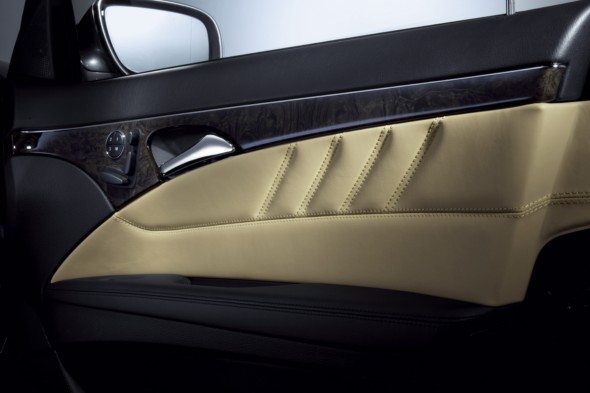 The designo Alcantara inside roof lining available in various colour tones adds an exquisite touch.
designo trim elements in wood, leather or natural stone
There are no limits to Mercedes customers' creativity when it comes to trim elements for the interior design. Fine wood veneers in different grains and colour nuances are particularly eye-catching.
Exquisite woods are hand-worked into unique and fine veneers in labour-intensive manufacturing processes.
Whether designo black piano lacquer, designo natural matte grained oak, designo natural maple or high-gloss poplar, the selection is huge and is harmonised with the respective vehicle, the colour tones of the designo paint and the designo leather interior finishes.
The SLK Roadsters can also be enhanced with designo leather-covered trim elements and rollover bars.
The worldwide unique designo natural stone trim elements, which were presented for the first time in 2000, add an exclusive touch.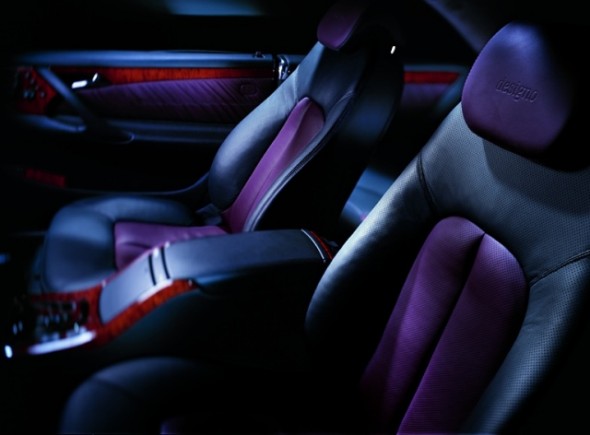 The decorative trims used for the interior door panels, the centre console, the steering wheel rim and the selector lever are made from high-quality granite.
Two different versions are available for the CL‑Class and SL‑Class models — the shimmering designo Labrador blue pearl and the designo Viking green.
Both the stone trim elements and the wood trim elements were given top marks in the crash tests. Even the light fastness of the material is perfect.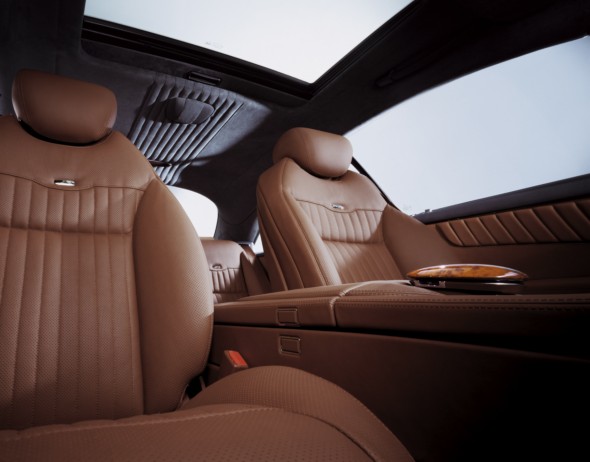 Mercedes quality for all designo elements
Top Mercedes quality is provided for all designo elements as a matter of course. Whereas the excellent quality of the Mercedes-Benz leather is already impressive, the fully-grained designo leather spoils passengers with an even softer surface.
Perfection is top priority, not only when it comes to selecting the materials but also when working them.
Extensive testing is conducted to ensure the durability of all designo elements, including the designo paints and trim elements.
Mercedes-AMG in Affalterbach creates even more freedom for expressing individual lifestyles.
Partly based on the designo range, Mercedes-AMG offers a full spectrum of interior variants, including everything from sophisticated multimedia solutions to a complete conversion of vehicles, which means that customers can have anything they want — within the scope of the law.