S-class Coupe
PeterH on March 6th, 2018
Two dream cars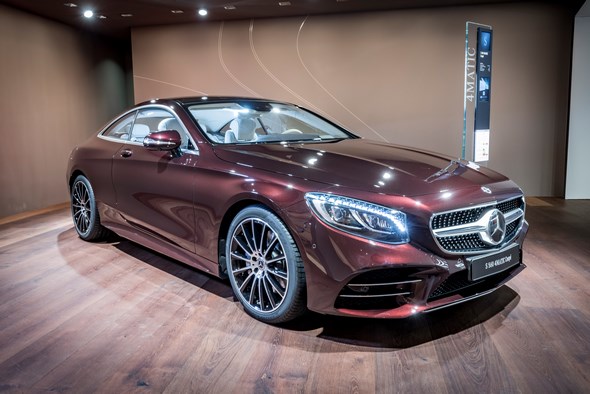 "Exclusive Edition" is the name given to two new lavishly equipped special models of the S-Class Coupé and Cabriolet.
The special two-door models, which can be combined with almost any engine variant, make their world debut at the Geneva Motor Show
(6 – 18 March 2018). Start of sales is the beginning of April 2018. (more…)
Continue reading about New special models of the S-Class Coupé and Cabriolet
PeterH on April 1st, 2017

Exclusive coupé now even more exclusive
Stuttgart. Mercedes-Benz is extending its range of exclusive special models now with the SClass Coupé: the "Night Edition" will enter the European market in April 2017, with a US launch following in August 2017.
Continue reading about From April 2017: Mercedes-Benz S-Class Coupé "Night Edition"
PeterH on April 27th, 2016
Open-top luxury
The new Cabriolet is the sixth variant of the current S-Class family and the first open-top luxury four-seater from Mercedes-Benz since 1971.
Continue reading about The new Mercedes-Benz S-Class Cabriolet
PeterH on January 11th, 2016

Limited special edition for the "130 years Inventor of the Automobile" anniversary
Carl Benz and Gottlieb Daimler invented the automobile in 1886. In so doing, they established a tradition of constant further developments and innovative new creations that continue to this day.      (more…)
Continue reading about Mercedes-AMG S 63 4MATIC Cabriolet "Edition 130"
PeterH on September 12th, 2015
6 examples of the Mercedes AMG S63 Coupé have been further refined by the luxury manufacturer MANSORY to become a Super Benz going by the name BLACK EDITION.
In particular, the bodywork, which is made completely of carbon fibre, has been given another makeover by the MANSORY designers.      (more…)
Continue reading about MANSORY presents the Mercedes S Class Coupé AMG S63 as a special limited edition model.
PeterH on December 13th, 2014
Intense driving enjoyment and modern luxury
Stuttgart – On 27 September, Mercedes-Benz will be launching more exclusive lifestyle vehicles onto the market in the form of the new C-Class estate, the new S-Class coupé and the latest generation of the CLS.
The new products impress thanks to their sporty design, high-quality interiors and innovative technology, including new, efficient engines, a curve tilting function in the S-Class coupé and high-resolution MULTIBEAM LED headlamps in the CLS-Class to open up a whole new dimension of Slighting technology.
Continue reading about Mercedes-Benz model campaign: the C-Class estate, S-Class coupé and CLS-Class