W212
PeterH on July 16th, 2014
Mercedes-Benz E-Class
Stuttgart – A Mercedes-Benz E 300 BlueTEC HYBRID has travelled the 1968 kilometres from Tangier in North Africa to Goodwood in England without having to refuel – and on reaching its destination still had enough fuel left for a further 160 kilometres.
Continue reading about From Africa to England on just a single tank of fuel
PeterH on August 12th, 2013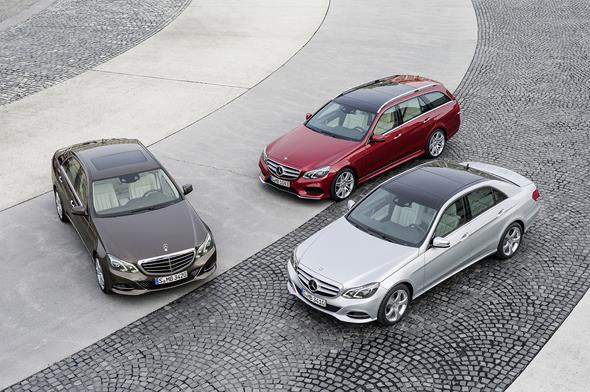 Showtime for new Mercedes-Benz models
Stuttgart – Spring is in the air at Mercedes-Benz and a whole array of new models is now on display at Mercedes-Benz showrooms. The Saloon and Estate of the new E-Class feature intelligently modified design, a new interior and new, efficient engines. (more…)
Continue reading about New E-Class, CLA, E 63 AMG and CLS 63 AMG
PeterH on July 13th, 2013
The new Mercedes-Benz E-Class: more efficiency, more intelligence, more emotional appeal
Mercedes-Benz has completely revised the Saloon and Estate models of the E-Class. As a result, the new E-Class has made a significant step forward when it comes to efficiency and ecology.  (more…)
PeterH on July 11th, 2013
The new E 63 AMG – with 4MATIC and as S-Model
Mercedes-AMG continues to champion performance, dynamism and efficiency: the new E 63 AMG is now also available as a particularly exclusive and powerful S-Model with an output of 430 kW (585 hp), 800 Newton metres of torque and featuring a newly developed performance-oriented AMG 4MATIC all-wheel-drive system.  (more…)
Continue reading about A new benchmark in performance, dynamism and efficiency
PeterH on March 29th, 2013
Passionate driving enjoyment
Stuttgart – With an intelligently modified, distinctive design, a new, high-grade interior, new, efficient engines and new assistance systems, Mercedes-Benz has comprehensively updated the E-Class Coupé and Cabriolet.
In addition, these particularly sportily designed members of the E-Class family have taken a large step forward in terms of lively performance, efficiency and ecology. This is the result, amongst other things, of powerful new BlueDIRECT four-cylinder petrol engines employing direct injection technology.
The new E-Class Coupé and Cabriolet can be ordered with immediate effect, with prices starting at 42,661.50 euros for the Coupé and 47,600 euros for the Cabriolet. They will be available for collection at Mercedes-Benz dealerships from June.
Continue reading about New E-Class Coupé and Cabriolet available at dealers starting in June
PeterH on January 4th, 2013
Efficient, intelligent, emotionally appealing
Stuttgart – With new, efficient engines, new assistance systems and a new design idiom, (more…)