DTM
PeterH on October 14th, 2015
Grand appearance in the Eifel: driving the Mercedes-Benz 190 E 2.5-16 Evolution II works racing car, Ellen Lohr will compete in the Westfalen Trophy at the Nürburgring on 24 and 25 October 2015.      (more…)
Continue reading about Ellen Lohr to compete in Youngtimer Trophy at the wheel of the 190 E 2.5-16 "Evo II"
PeterH on October 1st, 2015

The "Swabian Arrow" shapes the 1980s and 1990s in particular
Since the end of the 1970s Roland Asch has been driving to success in touring car sport, in slalom and mountain races. In particular the DTM era of the 1980s and 1990s was shaped by the likeable motorsportsman at the wheel of Mercedes-Benz racing tourers.
SILBERPFEIL Energy as new partner for Mercedes-AMG DTM Team
New SILBERPFEIL energy drink becomes main sponsor of Mercedes-AMG DTM Team
Launch of new energy drink to coincide with DTM opening race weekend on 1st – 3rd May at Hockenheim
Stuttgart: A fresh burst of energy for the Mercedes-AMG DTM Team as it embarks on a new campaign: SILBERPFEIL-1934 Energy Handels GmbH & Co KG, which manufactures the new SILBERPFEIL energy drink, has become a main sponsor for the Mercedes-AMG DTM Team.
Continue reading about Mercedes-AMG DTM Team in the 2015 season
Record drive in Nardò 1983 provides the initial spark
Ever-present in motor racing ever since
Safety Cars and Medical Cars for DTM and Formula 1
Continue reading about Great history: The C-Class and motorsport
PeterH on September 18th, 2013
AMG customer sport drivers Maximilian Buhk and Maximilian Götz test DTM Mercedes AMG C-Class
Successful DTM test for AMG customer sports juniors Maximilian Buhk and Maximilian Götz at Lausitzring
Reward for their achievements in the Mercedes-Benz SLS AMG GT3
Mercedes-AMG promotes young motor racing drivers in customer sport
PeterH on September 8th, 2012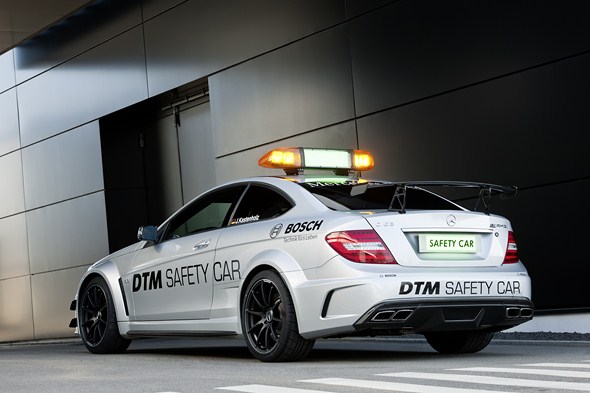 The new DTM Safety Car: the most powerful C-Class of all time
Affalterbach – A further highlight of the 2012 DTM season in addition to the spectacular new Mercedes-AMG C-Coupé will be the DTM Safety Car: right from the off, C 63 AMG Coupé Black Series will be providing the necessary safety for the world's most popular touring car series. With a maximum output of 380 kW (517 hp), this two-seater is the most powerful C-Class of all time.
Continue reading about C 63 AMG Coupé Black Series provides for safety in the DTM