DTM
DTM, Sunday, 22nd August 2010: round 6, Zandvoort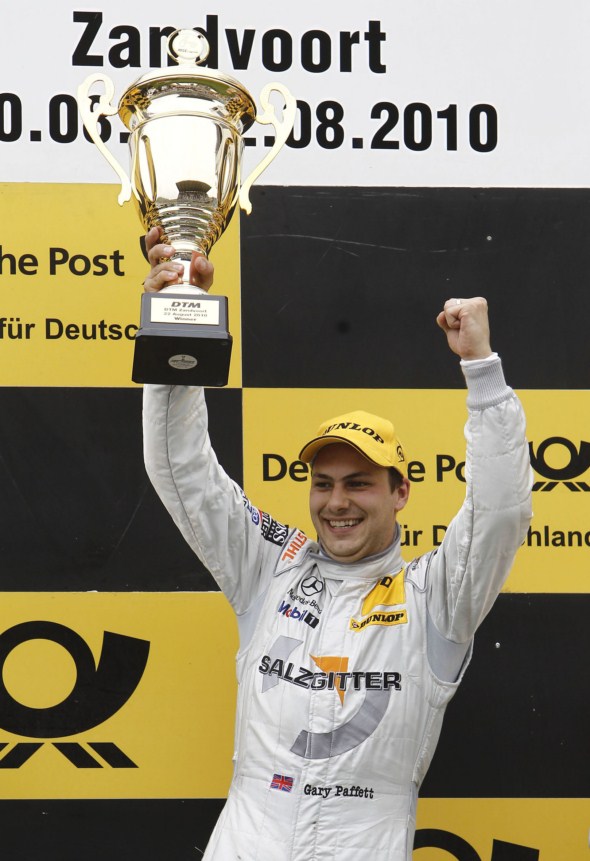 Six Races– Five Victories
Gary Paffett won ahead of Paul Di Resta
Bruno Spengler maintained overall lead with seventh place
C-Class trio Spengler, Paffett and Di Resta within 11 points on top of the leader board
After his championship year 2005, Paffett won for the third time at Zandvoort

§   Gary Paffett (Salzgitter AMG Mercedes C-Class) won the 2010 DTM's sixth round at Zandvoort. After 42 laps (180.894 kms), he came home 0.396sec ahead of Paul Di Resta. Overall leader Bruno Spengler (Mercedes-Benz Bank AMG C-Class) finished seventh.

§   In the direct comparison with Audi in the years 1990 until 1992 and since 2000, Mercedes-Benz achieved the 101st win out of 185 races in this period of time. It is the 157th DTM win out of 326 races for the brand since Mercedes-Benz entered the championship as a factory team in 1988 and the fifth out of six races this season.

§   After five continuous podium finishes including two wins this year, Bruno missed the podium for the first time this season; however, he maintained the overall lead with 44 points. Gary is second overall with 35 points ahead of Paul with 33 points each. Salzgitter/Mercedes-Benz Bank AMG with Spengler/Paffett leads the team ranking with 79 points.

§   Ralf Schumacher (Laureus AMG Mercedes C-Class) came home ninth ahead of Jamie Green (Junge Sterne AMG Mercedes C-Class). David Coulthard (Laureus AMG Mercedes C-Class) ended up 12th, Susie Stoddart (TV Spielfilm AMG Mercedes C-Class) finished 15th ahead of CongFu Cheng (stern AMG Mercedes C-Class).

§   Maro Engel (GQ AMG Mercedes C-Class) retired on lap two due to a broken front right suspension.

§   A total of 39,000 spectators attended the DTM race at Zandvoort during the weekend.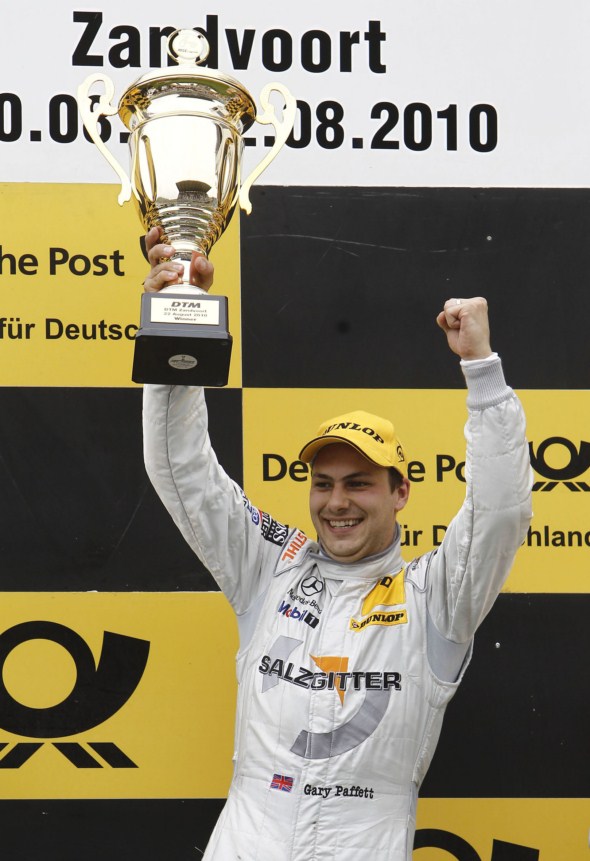 The start: Gary Paffett started second on the grid ahead of Paul Di Resta; Bruno Spengler had qualified seventh and Ralf Schumacher eighth. Whilst pole sitter Timo Scheider (Audi) stopped briefly, Gary took the lead followed by Paul; Bruno improved to sixth place.

Lap 2: Maro Engel pitted with a broken front right suspension and retired.

Lap 7: Ralf Schumacher made a mistake under braking into the Tarzanbocht and dropped to ninth behind Scheider.

Lap 11: Bruno Spengler (sixth) completed his first mandatory stop. Ralf Schumacher (eighth) followed one lap later.

Lap 14: Gary Paffett pitted from the lead, so did Paul Di Resta (1st) on the following lap.

Lap 16: Jamie Green (third) and David Coulthard (eighth) came in for their first stops.

Lap 17: CongFu Cheng (12th) completed his first stop. Susie Stoddart (ninth) pitted on lap 18. Bruno Spengler defended fifth position against Scheider who just exited the pits. Gary Paffett was in the lead ahead of Paul Di Resta.

Lap 23: Jamie Green (ninth) came in for his second routine halt. David Coulthard (11th) and Susie Stoddart (14th) followed one lap later.

Lap 25: Bruno Spengler (fourth) pitted.

Lap 27: Gary Paffett (leader) completed his second stop. Paul Di Resta (first) came in on lap 28, Ralf Schumacher (fourth) on lap 29 and CongFu Cheng (15th) on lap 30.

Lap 31: After the second round of pit stops, Gary Paffett held the lead with 1.6sec ahead of Paul Di Resta. Overall leader Bruno Spengler was the third C-Class driver in eighth place.

Lap 32: Bruno Spengler tried to pass Mike Rockenfeller (Audi); both cars tangled and Rockenfeller spun. Bruno was seventh.

Lap 37: Ralf Schumacher overtook Jamie Green and improved to ninth. One lap later, he challenged Martin Tomczyk (Audi) for eighth place.

Finish (lap 42): Gary Paffett clinched his second win of the year; Paul Di Resta ended up second and Bruno Spengler scored two points in seventh place.

Gary Paffett (Salzgitter AMG Mercedes C-Class) winner: "I just like this track. I got the maximum out of the car and driving here was great fun. I thank my team for a great job during the weekend. Like Bruno, I have won two races this year and I am ready to challenge him for the championship."

Paul Di Resta (AMG Mercedes C-Class) second: "A good race for me and for Mercedes-Benz. I came close to the lead, but could not manage to pass Gary. Well done to him on his race win. I scored eight points today and the fight for the championship is open again."

Bruno Spengler (Mercedes-Benz Bank AMG C-Class) seventh: "A difficult race for me and our team. With all the Audis around me it was not easy to find the right strategy. Our guys did their best and in hindsight you always know better. We made the best out of the situation. Congratulations to the entire Mercedes-Benz team and to Gary and Paul on their 1-2 victory."

Ralf Schumacher (Laureus AMG Mercedes C-Class) ninth: "Unfortunately I made a mistake when I battled with Martin Tomczyk and drove briefly through the gravel; therefore I lsot eighth place. In the end I overtook Jamie and was almost able to take eighth place and one point."

Jamie Green (Junge Sterne AMG Mercedes C-Class) 10th: "My car's performance in the race was better than in qualifying; however, I still lacked grip. In the end, I lost ninth place to Ralf. Now I look forward to my home race at Brands Hatch in two weeks where I want to do better again."

David Coulthard (Deutsche Post AMG Mercedes C-Class) 12th: "For the first time I had quite a good start and improved by three positions. However, I struggled with oversteer throughout the race and therefore could not move up."

Susie Stoddart (TV-Spielfilm AMG Mercedes C-Class) 15th: "I did a very late first pit stop and after that I had many cars in front of me which had already pitted. So I had too much traffic and that was my race."

CongFu Cheng (stern AMG Mercedes C-Class) 16th: "I had two lengthy pit stops due to a problem with a wheel nut. Therefore, I was not able to achieve a better result.

Maro Engel (GQ AMG Mercedes C-Class) retired on lap 2 with a broken front right suspension: "I had a slight coming-together during the start – we will have to analyse if this was the reason for the damage."

Norbert Haug, Vice President Mercedes-Benz Motorsport: "Gary and Paul were a class of their own here. As the championship leader, Bruno lost a bit more ground than necessary after a lengthy pit stop, but being the old and the new overall leader he can get over it.

We will go into the upcoming races focused and enthusiastically and with a trio of Bruno Spengler, Gary Paffett and Paul Di Resta on top of the leader board. Thank you to all the hard-working employees in our teams HWA headed by Gerhard Ungar, Persson with Ingmar Persson and Mücke with Peter Mücke – all of you did a great job."