Classic
PeterH on August 31st, 2018
Anti-lock braking system 40 years old
From 22 to 25 August 1978, Mercedes-Benz and Bosch presented the anti-lock braking system in Untertürkheim.
A world first, this digital driver assistance system redefined the partnership between driver and car. ABS was available in the S-Class (model series 116) from the end of 1978.
Continue reading about World premiere in 1978 in the Mercedes-Benz S-Class
PeterH on August 30th, 2018
Sports cars of the 1930s from Mercedes-Benz
Mercedes-Benz Classic is exhibiting two outstanding automobiles from the company's own vehicle collection at the Pebble Beach Concours d'Elegance 2018. This collection is unique in the automotive industry in terms of its importance and size. It includes spectacular racing and record-breaking cars as well as research vehicles and production cars from every era.
Continue reading about Mercedes-Benz Classic vehicles at the Pebble Beach Concours d'Elegance
PeterH on August 25th, 2018
All-round service for all Merceders-Benz classics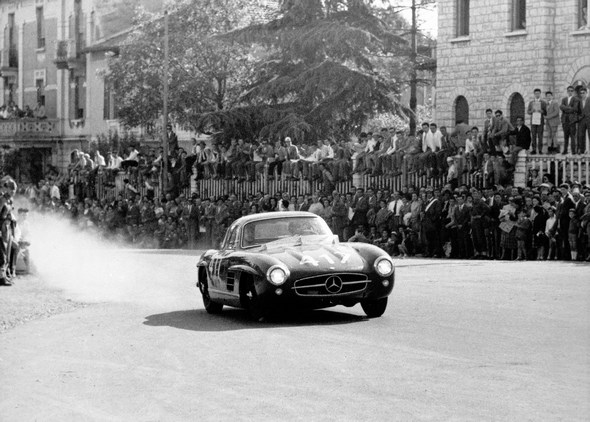 From the ALL TIME STARS trading activities to servicing and replacement parts supply for the brand's classic automobiles, Mercedes-Benz Classic is placing the focus of its show presentation on its comprehensive range of services at Retro Classics 2017.
Continue reading about Mercedes-Benz Classic at Retro Classics 2017
Click HERE to go to the Buyers guide
PeterH on March 23rd, 2017
372.102 km/h with the power from twelve cylinders
A new record-breaking vehicle with a streamlined body and fully faired wheels as well as a likewise new V12 supercharged engine rated at 453 kW (616 hp): thus equipped, Rudolf Caracciola, the 1935 European Grand Prix champion, set out in autumn 1936 to break records for Mercedes-Benz. (more…)
Continue reading about Autumn 1936: Mercedes-Benz sets new speed records
PeterH on March 13th, 2017
ALL TIME STARS takes stock after one year
Mercedes-Benz Classic and ALL TIME STARS played a big part in the successful premiere of the Motorworld Classics show in Berlin last year – and this year will once again have numerous vehicles on display at the historic exhibition centre next to Berlin's 'Funkturm' (a former broadcasting tower).
The event, which runs from 6 to 9 October 2016, will once again feature a large number of the officially recognised Mercedes-Benz brand clubs.