FormulaONE
PeterH on September 10th, 2012
Mercedes-Benz SL of the R 230 series Official F1™ Safety Car in four Formula 1 seasons
Production sports car extensively modified for use in the Formula 1
Continuous tradition of Safety Cars and Medical Cars from Mercedes-Benz in the Formula 1 dates back to 1996
Stuttgart – In the first race of the 2009 Formula 1 season a Mercedes-Benz SL 63 AMG was the first car to cross the finishing line: powered by the 386 kW (525 hp) 6.3-litre V8 engine, the high-performance roadster, which could sprint from a full stop to 100 km/h in only 4.4 seconds, felt clearly at home on the racetrack.
Continue reading about Racetrack safety: Mercedes-Benz SL-Class as Formula 1 Safety Car
PeterH on April 15th, 2012
Starting from pole position, he took the chequered flag with a 20s margin over the second placed car, achieving his first win in Formula One.
Continue reading about Nico Rosberg took a commanding victory at the Chinese Grand Prix in Shanghai today.
PeterH on July 27th, 2011
Race Preview Feature 11: The V8 Centenary
The 2011 Hungarian Grand Prix will be a race of anniversaries, including 100 Grands Prix for MERCEDES GP PETRONAS driver Nico Rosberg and 200 for the Mercedes-powered 2009 World Champion Jenson Button. But it will also mark a technological milestone for the sport, as the 2.4 litre V8 engine, competes in its 100th race. Here's a summary of what the engine has achieved since its very first appearance at the 2006 Bahrain Grand Prix… (more…)
Continue reading about F1: 2011 HUNGARIAN GRAND PRIX HUNGARORING
PeterH on July 24th, 2011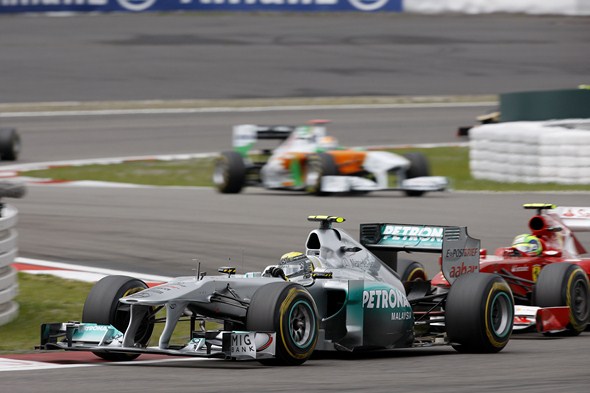 MERCEDES GP PETRONAS drivers Nico Rosberg and Michael Schumacher finished their home race in seventh and eighth positions today as a chilly Nürburgring circuit hosted the German Grand Prix.
Continue reading about F1: 2011 GERMAN GRAND PRIX NÜRBURGRING
PeterH on March 27th, 2011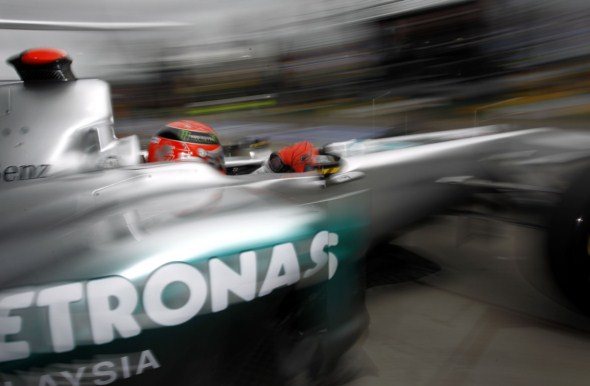 The Australian Grand Prix, the first race of the 2011 Formula One season, ended in disappointment for the MERCEDES GP PETRONAS team this afternoon with Nico Rosberg and Michael Schumacher both forced to retire from the race.
· Michael was hit on the first lap and had to pit with a puncture to the right rear tyre which dropped him to last place
· The collision caused damage to the floor of the car which eventually forced his retirement on lap 19
· Nico had made his first pit stop and was in P8 when he was hit from behind by Rubens Barrichello at turn three
· With a loss of water pressure from the impact, Nico pulled over to retire the car at turn thirteen on lap 22
Continue reading about F1: 2011 AUSTRALIAN GRAND PRIX ALBERT PARK
PeterH on November 12th, 2010
The Yas Marina Circuit in Abu Dhabi hosts the final race this weekend as the 2010 season comes to a close. With the race held in twilight conditions with a 17:00hrs start time, today's practice sessions began in the early and late afternoon with the floodlights coming on around the circuit as darkness set in during the second session.
Continue reading about F1: 2010 ABU DHABI GRAND PRIX YAS MARINA PRACTICE