F1
PeterH on January 22nd, 2016
It doesn't get any better: with victory in the constructors' world championship as well as the drivers' championship plus runner-up titles clocked up by Lewis Hamilton and Nico Rosberg, the MERCEDES AMG PETRONAS Formula One Team has achieved the ultimate in motorsport's champion's league in 2015.
Continue reading about Mercedes-AMG celebrates Formula 1 world championship title with special edition of the Mercedes-AMG A 45 4MATIC
PeterH on September 2nd, 2015
From Formula 1® to the DTM Affalterbach.  A new Safety Car celebrates its DTM premiere: at the second DTM race at the EuroSpeedway Lausitz (29 to 31 May 2015), the Mercedes-AMG GT S is set to be deployed for the very first time.
Continue reading about Mercedes-AMG GT S: new Safety Car for the DTM
PeterH on September 10th, 2012
Mercedes-Benz SL of the R 230 series Official F1™ Safety Car in four Formula 1 seasons
Production sports car extensively modified for use in the Formula 1
Continuous tradition of Safety Cars and Medical Cars from Mercedes-Benz in the Formula 1 dates back to 1996
Stuttgart – In the first race of the 2009 Formula 1 season a Mercedes-Benz SL 63 AMG was the first car to cross the finishing line: powered by the 386 kW (525 hp) 6.3-litre V8 engine, the high-performance roadster, which could sprint from a full stop to 100 km/h in only 4.4 seconds, felt clearly at home on the racetrack.
Continue reading about Racetrack safety: Mercedes-Benz SL-Class as Formula 1 Safety Car
PeterH on September 5th, 2012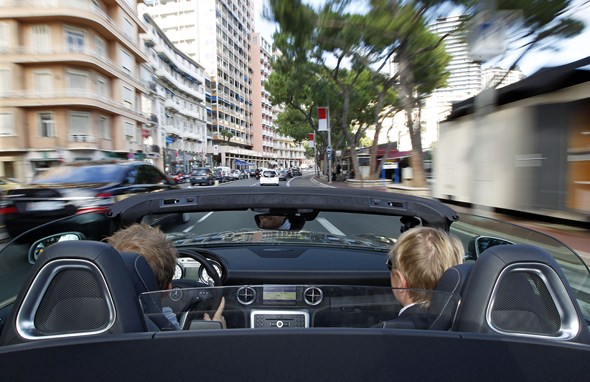 It's a scene that happens hundreds of thousands of times a day around the world: two people meet in a lift, greet each other and begin to chat about work and life. The twist in this particular story, though, is that the elevator is in Monte-Carlo; the two men are resident in the same apartment building, separated by little more than a few floors; and both have written their own chapters in the very exclusive grand prix racing history of Mercedes-Benz.
PeterH on April 15th, 2012
Starting from pole position, he took the chequered flag with a 20s margin over the second placed car, achieving his first win in Formula One.
Continue reading about Nico Rosberg took a commanding victory at the Chinese Grand Prix in Shanghai today.
PeterH on September 27th, 2010
Nico Rosberg continued his run of points-scoring finishes today with a strong drive to take fifth place at the Singapore Grand Prix from seventh position on the grid. Team-mate Michael Schumacher had a more eventful race with two out-of-sync pit stops compromising his track position and he finished the 61-lap race in 13th place.