Smart
PeterH on July 17th, 2014
Crash test against S-Class: new smart fortwo offers comprehensive occupant protection
Stuttgart. The new smart fortwo meets high safety standards, some of which far exceed legal requirements.
This was demonstrated by a recent in-house offset crash against a Mercedes-Benz S-Class. As the smaller and lighter vehicle in the collision and at an impact speed of 50 km/h with 50 percent overlap, the smart offers its two passengers an intact occupant space and excellent chances of survival.
PeterH on September 29th, 2012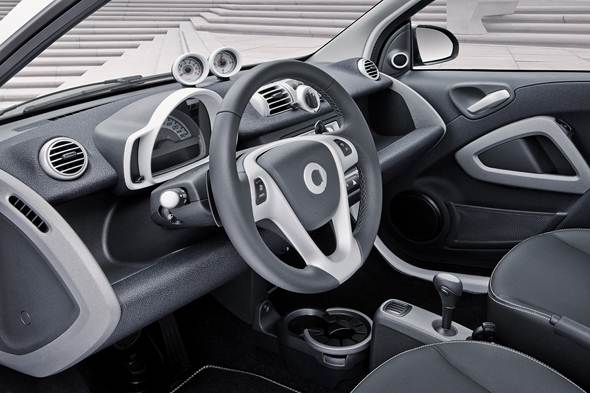 smart at the Paris Motor Show 2012
Stuttgart/Paris.  With the smart forstars, smart is continuing its series of clever concept vehicles and also offering a glimpse of the brand's future design idiom. smart's presentation in Paris will focus on the world premiere of the electrically driven two-seater that features an integrated video projector. (more…)
Continue reading about smart forstars concept car in the spotlight
PeterH on December 7th, 2011

The Rule-Breaker
Stuttgart. smart is turning the automotive world upside down once again and challenging ideas about what an urban pickup should look like. In a tongue-in-cheek manner the for-us signals that this is the right car for the young and young-at-heart with active lives who attach importance to low emissions and taking up minimum road space. The smart for-us translates the practical loading concept of a pickup to the reality of 21st century urban traffic for the first time.
Continue reading about smart for-us: world premiere at the Detroit Motor Show
PeterH on August 12th, 2010
(AUSTIN, Texas) – car2go announced today a new business partnership with advertising agency GSD&M Idea City. Under the partnership, GSD&M Idea City will encourage its Austin-based employees to utilize car2go's convenient service. (more…)
PeterH on August 8th, 2010
PeterH on July 28th, 2010
The new generation smart fortwo – exciting style, comfort and environmental friendliness (more…)